Do you know what Poup Alerta is?
You are bound to find numerous pop-up and banner advertisements on Brazilian online shopping sites if Poup Alerta is running on the computer. This disturbing, advert-supported application can be downloaded from the official website poup.com.br; however, it can be provided by third-party distributors as well. If you have downloaded adware together with unfamiliar, suspicious, unreliable or simply worthless software, it is possible that you will need to remove them right after you delete Poup Alerta. Do not be mistaken by the clandestine, silently running applications. If you cannot see them, it does not mean that they are not active or that they do not require removal.
The publisher of Poup Alerta is Poup Servicos Online Ltda. The publisher and the official website are represented in Brazilian, and so there is no question why the program works mainly on Brazilian sites. Poup Alerta affects all kind of sources; however, its activity is mostly notable on such popular web stores as walmart.com.br, extra.com.br and centauro.com.br. The pop-up coupons will be presented with the logo of the application, so it will not be difficult to identify them. If you discover unfamiliar ads, pop-ups and banner offers, it is still possible that they belong to Poup Alerta. Of course, different offers may be presented by other running advertisement-supported software which you will need to delete. Are you not sure about the threats which are running on the system and which you should remove? Click the download button below to download a free malware scanner which will alleviate the task for you.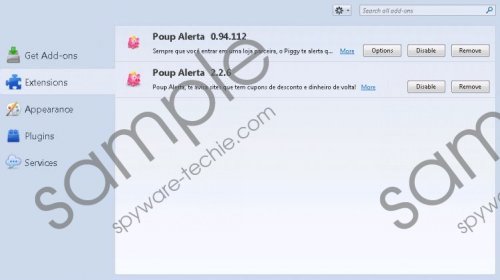 Poup Alerta screenshot
Scroll down for full removal instructions
Have you identified all threats, PUPs and adware running on the PC? If Poup Alerta is the only program that requires removal, you can delete it using the manual removal guides below. It is unlikely that any files will be left behind; however, if you do notice that adware regenerates or irritating pop-ups keep showing up, you certainly need to call in the big guns – automatic malware removal software. We recommend installing this software regardless of how persistent Poup Alerta is or what other threats should be deleted, because this software is necessary for the invincible Windows protection. Install authentic security software and malware removal will no longer bother you.
Delete Poup Alerta from the PC
Delete from Windows 8:
Tap the Windows key to access the Metro UI menu and right-click on the screen.
As the new pane shows up - click All apps and in the menu select Control Panel.
Go to Uninstall a program and right-click the one you wish to remove. Select Uninstall.
Delete from Windows Vista and Windows 7:
Move to the bottom-left corner of the desktop and click the Windows logo icon.
In the pop-up menu select Control Panel and then click Uninstall a program.
Right-click the application you wish to remove from the PC and select Uninstall.
Delete from Windows XP:
Click the Start button on the Taskbar to open a menu and select Control Panel.
Double-click Add or Remove Programs to find the list of available uninstallers.
Select the undesirable program and click the Remove button right next to it.
In non-techie terms:
Poup Alerta is categorized as adware because it produces advertisements which may be unreliable, intrusive and generally undesirable or useless. To delete the program from the operating system you can either choose the manual removal route or you can install security software capable of automatic Poup Alerta removal. The benefits of the latter option have been mentioned within the article already. If you have found some programs blocking the installation of automatic malware removal software – use the effective guides below.