Do you know what Positive Finds is?
Positive Finds is one more adware program that uses questionable marketing strategies to lure unsuspecting users into installing it. Under no circumstances install this application, as it is utterly useless. Even though it promises to enhance the experience of browsing the web, it will not do anything like that. Positive Finds will only cause you frustration and annoyance as long as it is active on your operating system. Unfortunately, in some cases Positive Finds could act in a quite malicious way, exposing your computer to potentially harmful web content. Do not hesitate to remove Positive Finds as that is your best bet to keep your PC clean and secure. We provide a removal guide below that is easy to use and will help you delete Positive Finds once and for all.
Like so many adware applications today, Positive Finds depends on browser extensions to present you with ads while you are browsing the web. As soon as this adware program gains access into your operating system, browsers such as Mozilla Firefox and Internet Explorer will be implemented with Positive Finds extensions. These extensions will be in constant connection with various adware servers in order to present you with third-party commercial ads and annoying pop-ups. In order to stop this annoying activity and to regain the proper functionality of your browser, complete removal of Positive Finds is needed.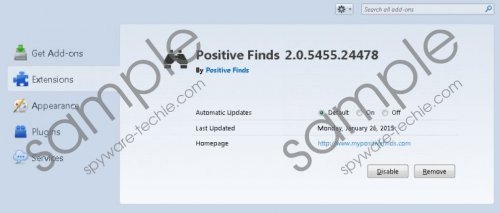 Positive Finds screenshot
Scroll down for full removal instructions
Knowing the fact that most of the adware servers are closely linked to malware distribution, it is important to note that in some cases an adware program could be the reason your PC is infected with other Internet-based infections. Even though ads containing redirect links do not occur often, it still remains a possibility. Thus, clicking on any ad provided by Positive Finds is a risk that you should not take, as you could end up on a website that promotes malware. Avoid anything that Positive Finds presents you with because that is the best way to keep your PC safe and secure until the removal processes is completed.
Fortunately, the removal process for Positive Finds is relatively simple, as it does not require a lot of advanced computer knowledge. Removal via Control Panel will certainly stop the annoying activity. Unfortunately, manual removal might not always be enough to delete Positive Finds completely. That is why we strongly recommend that you conduct an in-depth analysis of your PC after manual removal is executed in order to remove any leftovers.
How to remove Positive Finds
How to remove Positive Finds from Windows Vista and Windows 7
Click the Windows button and select Control Panel.
Click Uninstall a program.
Remove Positive Finds.
How to remove Positive Finds from Windows XP
Click Start.
Select Control Panel.
Click Add or Remove Programs.
Uninstall the unwanted application.
How to remove Positive Finds from Windows 8
Move the mouse pointer to the lower-left corner of the screen.
Right-click and select Control Panel.
Click Uninstall a program.
Select Positive Finds and click Uninstall.
In non-techie terms:
If you are not able to conduct an in-depth analysis of your PC for potential leftovers of Positive Finds, please use the instructions provided below. It will help you to remove Positive Finds in a quick and easy manner.