Do you know what PopBlock+ is?
PopBlock+ is a browser extension that works on the Chrome browser. As you can probably tell from its name, it's there to help you block annoying pop-ups that interfere with your browsing sessions. However, the question is whether this app is as useful as it claims to be. After all, there should be a reason it's categorized as a potentially unwanted program, right? And so, the problem here is that the app might be added to your browser accidentally. If that's what happened to you, you can scroll down to the bottom of this entry for the manual PopBlock+ removal instructions.
Potentially unwanted programs often live up to their promises and they do offer the function that was advertised when you saw those apps on their official websites. But the issue with the likes of PopBlock+ is that these apps might have many other secondary functions that we might not like. Also, as far as PopBlock+ is concerned, we have found that the apps page at the Chrome Web Store has been taken down. Hence, if Google has taken down the app from its official Chrome Web Store, certain features of this app must be associated with cybersecurity concerns in one way or the other.
Now, we still have the official description for PopBlock+ that was posted at the Chrome Web Store, so let's see what this extension is all about. So, the description says that this "extension automatically detects, and blocks Pop-Up ads identified by special patterns." Then it goes on to say that PopBlock+ "has been created to identify and auto-close all detected pop-ups." Reading further on, we can see that this app "needs "Tabs" permission to perfectly do the job and remove pop-up ads." There's also the official website for this app at popblockplus.com, where you can actually get the extension added to your browser automatically, the moment you land on the page. And that's rather intrusive, isn't it?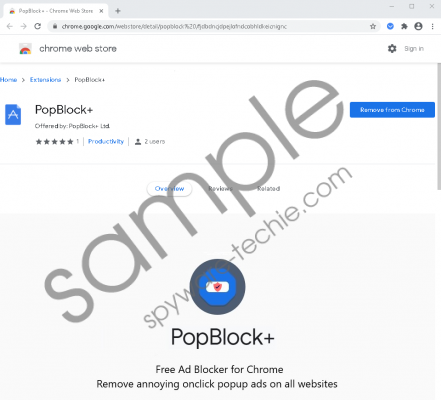 PopBlock+ screenshot
Scroll down for full removal instructions
What's more, if we take a look at the permissions requested by this app, we will see that PopBlock+ need to read your browsing history so it could perform its functions. And while that request isn't too far-fetched, the question is whether you really want this random app to log all of your browsing history. Of course, PopBlock+ cannot collect personally identifiable information, but just because the app is there to block annoying pop-ups, it doesn't mean that it cannot expose you to other type of commercial content. And since it has your browsing history as its figurative fingertips, it might generate custom content that you would be willing to interact with.
So, the question is whether the function offered by PopBlock+ is that useful to suffer all the side effects of having this application on-board. Not to mention that this extension could be just one of the many unnecessary applications currently running on your PC. You see, if you didn't get this app through its official sources, you could've encountered it at some third-party site through a pop-up. And there are tons of apps that get distributed that way. Hence, we would strongly suggest running a full system scan with a licensed antispyware application that could help you determine just how many unwanted programs you have installed.
Most of the time, it is possible to remove such applications manually either through the Control Panel or through the browser's menu. But if you think that you might miss some random unnecessary files, you can always employ a powerful security application that will remove all the unwanted files and programs from your system.
As for PopBlock+, you can delete the app through the Extensions menu. If you want to terminate all the tracking cookies that the app might have collected, you can also restore your browser's settings to default. This would remove all the other unwanted extensions, too.
Finally, even if you do have a security tool, you should still review your browsing habits, so you could avoid unwanted programs like PopBlock+ in the future. Stay away from websites that tend to display a lot of ads, and if you encounter a pop-up, click the X button at the top right corner to close it, instead of reading anything on it.
How to Delete PopBlock+
Launch Chrome and press Alt+F.
Select Settings on the drop-down menu.
Click Advanced at the bottom of the page.
Press Restore settings to their original defaults.
Click Reset settings on the confirmation box.
In non-techie terms:
PopBlock+ is a Chrome extension that should block annoying pop-ups. However, this app may collect data on your browsing habits and share it with unreliable third parties. Also, this app could be added to your browser accidentally. If you never wanted to have this program, you can remove PopBlock+ right now. While you're at it, make sure you scan your computer with the SpyHunter free scanner. If you find more unwanted or dangerous apps, remove them all at once.