Do you know what Poonama is?
If you notice a new search engine with occasionally changing backgrounds in your Google Chrome browser, you may have installed Poonama. This questionable browser extension claims to provide you a "search experience and amazing backgrounds"; however, our researchers have found that this is just another potentially unwanted program (PUP) that might pose a threat to your virtual security. Clearly, this is not a major threat or danger you would be facing when infected with a ransomware program. Still, if you want peace of mind while using your computer or going online, we suggest that you remove Poonama from your browser. But before you rush to the end of our report, we would like to share with you what we have found out about this PUP.
Our researchers say that for the time being this browser extension seems to be mainly spreading in the Philippines region. Basically, it is possible to download it officially but it may be more likely that you install this PUP in alternative and therefore risky ways. You can find this tool in the Chrome web store at chrome.google.com/webstore/detail/poonama/cmngimnjnegcbgjikonbnepmkmimnfmm; at least, until it is reported as potentially unreliable and it is reviewed by Google. In any case, the statistics show that 20 thousand users have installed it so far; yet, not one has left any comment and only one has rated this extension. This is a bit suspicious and does not convince us that we are dealing with a useful and reliable tool; on the contrary. Of course, this may not be enough for you to want to delete Poonama, so let us move on.
You can also download this PUP from its promotional page, poonama.com. However, clicking the "Add to Chrome" button simply redirects you to the web store instead of directly installing this extension. Of course, this does not really matter and we cannot cry wolf just because the developers decided to make their product available in this way. The problem is that we have also found this PUP spreading in questionable ways, such as in freeware bundles. It is possible, for example, that you click on a pop-up or banner advertisement on a suspicious website or one that is displayed by an adware program hiding on your PC, and you install this PUP directly without even noticing it.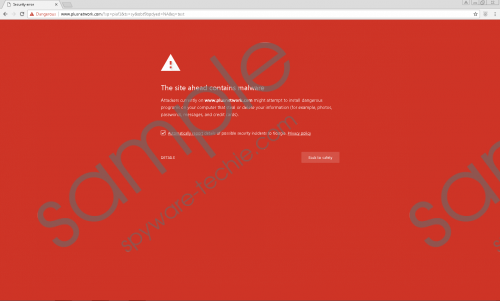 Poonama screenshot
Scroll down for full removal instructions
What is worse, that you can also download a whole package of malicious software installers this way. In other words, if you click on questionable third-party ads, you may infect your computer with PUPs like this and malware programs as well, including adware apps, browser hijackers, Trojans, fake alerts, and more. Thus, you cannot delete Poonama alone if you decide to restore your security level. We also recommend that you scan your system with a reliable online malware scanner to see how many more potential threat sources are hiding on board.
It seems that this PUP is quite similar to Chipopo and Sadooma, which also have emerged on the web lately. In fact, these PUPs appear to come from the very same authors, too. This browser extension seem to only work in Google Chrome as of yet and when you try to install it in other browsers it simply prompts you to use Chrome. When you install this PUP, it displays an icon in the top-right corner of your browser window. If you click on this, a menu pops up that actually can be used to remove Poonama when you choose the "Remove from Chrome…" option. This PUP offers you nice background images and a search engine. It changes your search settings and sets its own search page, search.poonama.com. This search engine actually redirects your queries to plusnetwork.com, which is a suspicious service and could expose you to unreliable third-party content. As a matter of fact, this promoted search engine may not even function right now because it is possible that Google has already blocked it. However, you should know that it could be risky to use this PUP to run web searches as you could click on content that may redirect you to malicious pages or directly drop further infections. If you would like to keep your system clean, we recommend that you remove Poonama as a potentially unwanted application.
The easiest way to eliminate this potential threat source is to use its own menu as we have explained above. Other than that, you can also remove it through your browser menu. We have included the necessary instructions below this article if you were to choose this manual option. Please keep in mind that there could be more dangerous threats on your system. If you do not feel skilled enough for manual detection and removal, we advise you to employ a reputable professional anti-malware program like SpyHunter. What could be more comfortable and effective than automatic protection?
How to remove Poonama from your browser
Google Chrome
Tap Alt+F to launch the menu.
Choose Settings.
In the left panel, click Extensions.
Find the unwanted extension and click on the trash can icon on its right.
Press Remove in the pop-up window.
In non-techie terms:
Poonama is a useless and potentially unreliable Google Chrome browser extension that has been labeled as a potentially unwanted application by our researchers after careful testing in our internal lab. This tool offers you a search engine page with "amazing" changing backgrounds on your home page and new tab. Unfortunately, this search engine redirects your searches to a questionable search engine, plusnetwork.com, which is known to display potentially unsafe third-party ads and links. If you do not want to make matters worse on your computer regarding your virtual security, we recommend that you remove Poonama as soon as possible. If you cannot or do not want to do this manually, you would be better off installing a trustworthy malware removal tool.