Do you know what Politiets Sikkerhetstjeneste Virus is?
Do you know what a ransomware is? Well Politiets Sikkerhetstjeneste Virus is the perfect example, and if it has been infiltrated onto the computer, you must be puzzling yourself with the removal process. The threat can remove administrative privileges and lock access to the computer, which is why at first it may appear to you that it is impossible to have the infection deleted from the PC. Do not rush to throw your computer through the window and read this report first. We can help you delete Politiets Sikkerhetstjeneste Virus.
The malicious ransomware is presented in Norwegian, and there is no doubt that it is targeted at those Windows users who live in Norway. In reality, the infection is controlled through the Urausy Trojan which has multiple different versions and which can manifest in different languages and with different interfaces. Unfortunately, this is not the only Trojan which may target your personal computer, which means that the system could be affected by different ransomware threats, like Politiet Norge Ukash Virus, Datamaskinen Din Har Blitt Låst Virus, or other Ukash Virus versions. All of them use the same deceptive tricks to fool you into paying a fine for crimes you have not performed. Therefore, if you do not want to be tricked by cyber crooks, you have to ignore the illegally attached credentials (e.g. Interpol or Copyright Alliance), and the fictitious accusations/statements/demands:
OBS! Datamaskinen din har blitt blokkert av sikkerhetsmessige grunner nevnt nedenfor.
Du er anklaget for visning/lagring og/eller spredning av ulovlig pornografi […]
Ogsa er du mistenkt for brudd pa "Opphavsrett og beslektede rettingheter" […]
Summen av bot er NOK 1000 norske kroner.
The so-called Paysafecard Virus is truly deceptive and uses scare tactics to fool you. Do not pay attention to the threats of large penalties or criminal cases. In reality, whether you do pay the fine or not the situation will remain the same – you will still need to worry about Politiets Sikkerhetstjeneste Virus removal. You definitely should get rid of the infection as soon as possible because it could easily expose vulnerabilities of your Windows security for other dangerous threats which you would also need to remove. If this is not the path you want to move along – delete Politiets Sikkerhetstjeneste Virus right away. We recommend using automatic spyware removal software which you can install using the instructions presented below.
Delete Ransomware from Windows
Delete from Windows 8:
Tap the Windows key to access the Metro UI start screen and launch a browser.
Visit http://www.spyware-techie.com/download-sph and download the automatic spyware remover.
Install the application, scan the computer and delete running computer threats.
Delete from Windows Vista or Windows 7:
Restart the operating system and wait for BIOS screen to disappear.
Start tapping F8 to access the Advanced Boot Options menu.
Using arrow keys to select Safe Mode with Networking and tap Enter.
Launch the browser and download an automatic spyware removal tool SpyHunter.
Immediately install the application and delete detected malware.
Delete from Windows XP:
Restart the PC and start tapping F8 as soon as BIOS loads up.
Using arrow keys select Safe Mode with Networking and tap Enter.
Click Yes on the Desktop alert.
Download SpyHunter.
Open the Start menu, launch RUN, enter msconfig and click OK.
Click the Startup tab, select Disable All and hit OK.
Restart the PC and install the automatic spyware removal tool.
Scan the computer and remove found infections.
In non-techie terms: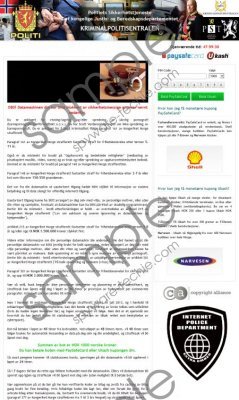 Politiets Sikkerhetstjeneste Virus Remvoal Guide screenshot
Scroll down for full removal instructions
Politiets Sikkerhetstjeneste Virus is a ransomware which requires immediate removal. The infection can remove access to the desktop, endanger your virtual security and perform various malignant actions. As it has been mentioned before, the infection runs alongside a Trojan, and it has to be deleted from the PC right away. Utilize automatic spyware removal software to exterminate all dangerous components.
Aliases: Politiets Virus.