Do you know what Polished Patterns is?
Polished Patterns claims to be a useful application that can save you time and money, but, unfortunately, it is yet another ad-supported program. Having this adware on your computer means that you might be exposed to potentially harmful third-party ads every time you surf the web. Unfortunately, this is only one part of the threats you might be facing. This adware might enter you computer with a company of other malware infections. This can easily multiply your security issues. There is no reason why you would keep a totally useless program on your computer that has the potential to harm your system. Thus, we advise you to remove Polished Patterns as soon as you can.
Polished Patterns is a new adware application in the so-called SuperWeb family that includes Square Corner and Razor Web. This family contains hundreds of ad-supported programs that are completely worthless and only make your virtual life miserable. Although this adware has an official website, polishedpatterns.com, it is practically dysfunctional. If you press the "Start Now" button, it simply opens a new tab page with download instructions and nothing else really happens. This already makes this application questionable, not to mention that on the main page you cannot get any information at all about what the app is supposed to do. On the Support page you can find a general description that is used for the other SuperWeb applications, too.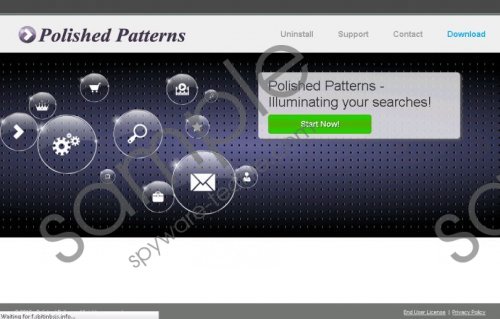 Polished Patterns screenshot
Scroll down for full removal instructions
Since Polished Patterns cannot be downloaded directly, the most likely method for distribution is in freeware bundles. This means that it is packed with other applications in one package. However, this is not always without danger. Third-party installers can include adware, browser hijackers, and other malicious programs in such a bundle. If you are unlucky, your computer might already have a number of those infections active and threatening your system's security. Therefore, it is important that you not only delete Polished Patterns, but also all other related infections.
Although Polished Patterns is advertised as an app that can get you the best deals, and coupons, so that you can save money, but, in reality, you will get customized third-party advertisements. This adware can gather all kinds of information about your browsing activities and share this with third parties. That is how you can see ads that may appear so relevant to you. However, we recommend that you refrain from clicking on any of those ads because of the potential threats. Cyber criminals can easily inject their own corrupted links into these ads and redirect you to harmful websites. If you do not want more serious infections or end up with stolen identity, you should not hesitate to delete Polished Patterns from your PC.
If you understand the danger of having Polished Patterns on your computer and decide to remove it, you can actually accomplish this in a few minutes. Please follow our removal instructions below, which should be quite easy even if you have never done it before. However, due to the fact that this adware might have traveled with other infections, you need to take care of them, too. If you are an IT expert, you can try to manually clean your system, but most likely you would like a more comfortable and time-saving solution. Therefore, we advise you to use reliable antimalware software that will automatically take care of all your security issues and safeguard your system from other malicious attacks.
How to remove Polished Patterns
Windows XP
Click Start and go to Control Panel.
Click Add or Remove Programs.
Find the application and click Remove.
Windows 7 & Windows Vista
Access the Start menu and select Control Panel.
Select Uninstall a program.
Select the application in the list and click Uninstall.
Windows 8 & Windows 8.1
Tap Win+R and enter control panel. Click OK.
Select Uninstall a program.
Select the application and click Uninstall.
In non-techie terms:
Polished Patterns is an adware application that poses as a useful program. Apart from being totally useless, it holds multiple potentials to harm your computer. If you want your system to be safe from any threats this adware might pose, you need to clean it from your PC as soon as possible. If you want to save time or you are not an experienced computer user, we recommend using a reliable antimalware tool to automatically check for any infections that may be present and to remove them all. In order to stay on the safe side, you should update your tool daily and keep it active at all times.