Do you know what Police Nationale Francaise Virus is?
Police Nationale Francaise Virus is a malicious computer infection classified as ransomware. It means that when you are infected with this dangerous threat you are denied desktop access and you are displayed a false notification that is supposedly sent by the French National Police. The scam is more than obvious with Police Nationale Francaise Virus, because law enforcement authorities do not and cannot lock down personal computers on a regular basis. Remove Police Nationale Francaise Virus from your computer as soon as you can, and then do safeguard your system against similar intruders.
If you think that you have seen Police Nationale Francaise Virus somewhere before, then you are most probably right. It is not the first Ukash Virus infection to affect computer users in France. Before that the users have been annoyed by Agence nationale de la sécurité des systèmes d'information virus, Votre fournisseur d'accès à Internet est bloqué Virus, Ordinateur est Verrouillé virus and others. The main point is to understand that the notification on your screen displayed by this infection is false, and you have done nothing wrong. Consequently, you must not pay the ransom fee, because that will not solve any problem.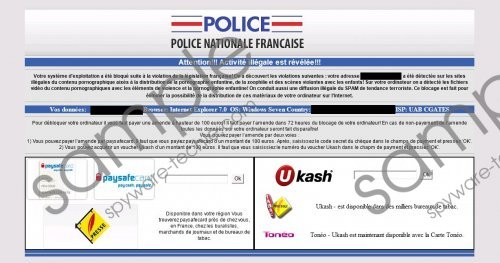 Police Nationale Francaise Virus screenshot
Scroll down for full removal instructions
It may seem as though there is no way out of this situation, but to get yourself a new computer or reinstall your Windows, but there is always a way – you simply need to know how. Therefore, first and foremost, it is important to ignore the notification displayed by this ransomware infection:
Attention!!! Activité illegal est révélée!!!

Votre systéme d'exploitation a été bloqué suite à la violation de la legislation française! On a découvert les violations suivantes: votre adresse IP a été détectée sur les sites illégales du contenu pornographique aixés à la distribution de la pornographie enfantine, de la zoophilie et des scenes violantes avec les enfants!
An excerpt from the notification above says that your computer has been blocked because you have been involved in a series of illegal activities, including distributing videos containing child pornography and bestiality. There is no way in the world that Police Nationale Francaise Virus could detect such violations, and you do not need to fret being wrongly accused – all the claims on the notification are false, as Police Nationale Francaise definitely does not expect you to transfer 100 euro via Ukash or PaySafeCard.
If you really intend to deal with Police Nationale Francaise Virus, you need to restore your desktop access and then invest in a legitimate computer security application that will remove the ransomware for you automatically. Automatic Police Nationale Francaise Virus removal is highly recommended, because this way you will also be able to take care of Trojans and rootkits that brought the ransomware onto you.
How to unlock my PC
Windows 8
Press Windows key and Metro GUI will open.
Click Internet Explorer tile.
Type http://www.spyware-techie.com/download-sph into the address bar and press Enter.
Click Run on download dialog box and install SpyHunter.
Scan your PC.
Windows Vista & Windows 7
Reboot the PC and press F8 several times.
When Advanced Boot Options menu appears, select Safe Mode with Networking and press Enter.
Access http://www.spyware-techie.com/download-sph and download SpyHunter.
Install the program and run a full system scan.
Windows XP
Follow the steps above 1 and 2.
Click Yes on a confirmation dialog box.
Download SpyHunter.
Click Start button and launch Run.
Enter "msconfig" and press OK.
Open Startup tab on System Configuration Utility.
Press Disable all and then click OK.
Reboot the PC in Normal Mode.
Install SpyHunter and scan your system.
You can also leave a comment below if you need any help with Police Nationale Francaise Virus's removal, or you have any questions about computer security in general.
In non-techie terms:
Police Nationale Francaise Virus is a computer infection that does not allow you to access your desktop. Unlock your PC using the instructions above and then remove Police Nationale Francaise Virus with a powerful computer security tool.
Aliases: Police Francaise Virus.