Do you know what Polarisearch.com is?
Polarisearch.com is an untrustworthy search tool which usually shows up on browsers of users living in the U.S. Even though it is the most prevalent in this part of the world at the time of writing this article, everything might quickly change, so users should not be so sure that they will never discover Polarisearch.com set as a homepage on their web browsers. Are you reading this article because this dubious search tool has already applied modifications? If the answer is positive, it means that you should prepare yourself for the removal of the unwanted search engine. This process will not be very easy, especially if Polarisearch.com has modified the browsers' shortcuts so that it could revive after being erased, but this has to be done at any price because this website, even though it might really look like a reputable search tool at first glance, is not a legitimate search engine, and it is definitely not going to provide improved search results for users with the intention of enhancing their Internet browsing experience. To be honest, using Polarisearch.com does not mean that you could find the necessary piece of information on the web quicker. Instead, you might need more time to find the relevant information there because, as has been found by our team of experienced specialists, it might show sponsored search results that are not related to the submitted search query in any way. It is a serious flaw of a search engine, but, in fact, it is only one of several weaknesses Polarisearch.com has. The following paragraphs will reveal more disturbing facts about it too.
As has already been mentioned, the main problem of Polarisearch.com is the presence of sponsored search results that lead straight to third-party websites. At first glance, it might seem that Polarisearch.com does not work properly because users first see a message "Oops! There doesn't seem to be anything here. Try a new search." once this website is loaded; however, it becomes clear that it returns search results if a new search query is entered. This search provider is powered by a modified version of Google, so users see Google search results together with promotional links. Of course, not all these search results you see are sponsored search results, but, as research carried out by our specialists has shown, you will sooner or later encounter these commercial search results one day too if you continue using Polarisearch.com. The developer of Polarisearch.com has programmed it to display these ads so that it could receive extra money. Yes, online advertising is quite a profitable activity. Remember, we are talking here about the developer's motives. As in the case of ordinary users keeping Polarisearch.com and searching the information with its help, they might only get undesirable software from third-party websites they are taken to after clicking on commercial search results. In other words, they do not get anything positive, not to mention money, out of using Polarisearch.com as their default search engine.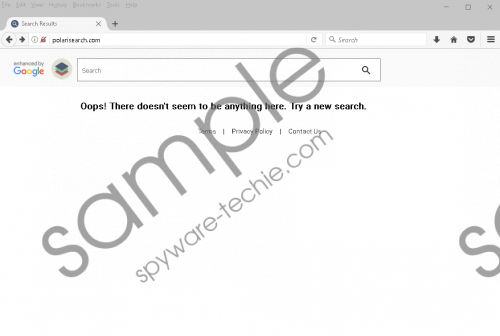 Polarisearch.com screenshot
Scroll down for full removal instructions
Users who ignore Polarisearch.com and do not do anything to get rid of it might experience problems associated with the privacy as well because this dubious search tool is also going to collect personally-identifiable information. This information is recorded together with search queries, meaning that you are safe if you have not entered any personal details in the search box of Polarisearch.com yet. If you have already done that, these search queries containing personal info might be disclosed to third parties. Nothing is known about these third parties, so the recorded information might even end up in the hands of disreputable companies. Prevent this from happening by erasing Polarisearch.com from browsers after reading this description.
It should not be hard to eliminate Polarisearch.com from browsers if it has not modified the shortcuts of browsers. Yes, in some cases it does that too so that it could stay on browsers and generate revenue for the developer a bit longer. In such a case, changes have to be undone first and then browsers have to be reset. Polarisearch.com can be erased with the help of an automatic scanner, e.g. SpyHunter as well. In this case, it will fix the browsers' shortcuts without your help, meaning that your only job will be to launch the scanner.
Delete Polarisearch.com manually
Undo the changes applied to browsers' shortcuts
Right-click on the shortcut of your browser and click Properties.
Open the Shortcut tab by clicking on it once.
Delete the undesirable search tool Polarisearch.com from the Target line.
Save the changes and then go to reset browsers to their default settings.
Mozilla Firefox
Press Alt+H when you open your browser.
Select Troubleshooting information.
At the top of the page, click on the Refresh Firefox button.
In the pop-up window, click Refresh Firefox again.
Google Chrome
Launch Google Chrome.
Press Alt+F and click Settings.
Scroll down to the very bottom and select Show advanced settings.
Click on the Reset settings button.
Click Reset.
Internet Explorer
Open your browser.
Open the Tools menu (press Alt+T) and then click Internet Options.
Open the Advanced tab.
Click Reset.
Check the Delete personal settings box.
Click Reset in the dialog box.
In non-techie terms:
Since Polarisearch.com is often distributed in malicious software installers, it might be true that other untrustworthy applications have managed to enter the computer together with it. If they are not removed soon, bad software might be downloaded against your will and these existing unreliable applications will keep performing all kinds of undesirable activities behind your back too.