Do you know what Please Install Hd Video Player popup is?
In the words of our malware researchers, Please Install Hd Video Player popup is a malicious pop-up that that is shown by adware-type programs and malicious websites alike. It intrusively promoted a mediocre video player that is unlikely to provide you with a reliable, useful service, so you would be better off by simply removing it. In this short article, we will discuss how this pop-up might be distributed, how it works, and the dangers that it can pose to your PC. So if you got it on your PC, then we invite you to continue reading this article.
According to our malware researchers Please Install Hd Video Player popup might be shown to you if you have adware installed on your computer. Adware might come in the form of an executable file or as a browser extension, but it might be configured to redirect you to this pop-up at random. The adware can redirect you to URLs such as http://www.updateflashplayer.info, http://www.bestdownloads4free.com/207/v0/index.html, and http://www.topgreatfreedownloads.com/206/v0/index.html that feature this pop-up. The developers of such applications make money off redirecting you to this pop-up's URL. Other places where you might encounter this pop-up are malicious websites that open this pop-up when you click on an unrelated click that triggers Please Install Hd Video Player popup.
If you get redirected to this pop-ups URL, you might be given the impression that it promotes Adobe Flash Player. However, that is not the case. The design and color scheme were inspired by Adobe, but if you read the headline you will see that it promotes a video player called HD Video Player. While this player can play various video formats such as AVI, MOV, MP4, MPG, WMW, and so on, you should not expect it to deliver you a reliable service. Moreover, this video player might show you commercial advertisements inside your browser to generate revenue.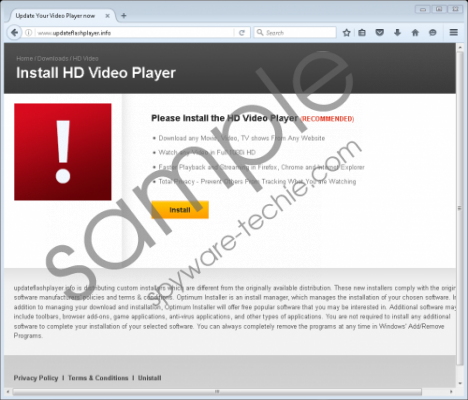 Please Install Hd Video Player popup screenshot
Scroll down for full removal instructions
There is no indication of where this player comes from, no indication who created or published it, so this program is potentially unwanted to say the least. Our researchers say that if you install HD Video Player on your PC, then it will also install additional software of the adware variety and various potentially unwanted programs. Therefore, if you get redirected to Please Install Hd Video Player popup, then we recommend that you ignore its suggestion and look for the software that renders it or stop visiting the sites that promote it.
We believe that this particular pop-up is being distributed using adware-type programs, potentially unwanted programs or particular websites. Clearly, this pop-up is intrusive, annoying and misleading. If this pop-up is indeed shown by software, then it is likely that you got it unintentionally by installing another software bundled that installed a program that now forces open your web browser and loads Please Install Hd Video Player popup. Therefore, you ought to remove the scam program that loads the pop-up because the adware and potentially unwanted programs that you might get along with HD Video Player might jeopardize your computer's security.
In closing, Please Install Hd Video Player popup is one of many similar pop-ups that were have recently discovered. Our malware analysts say that this pop-up promotes a media player that comes bundled with various adware-type programs and potentially unwanted software. The additional software can show ads to generate their developers money. Therefore, to avoid undesirable and annoying ads and to keep your computer out of harm's way, you ought to remove whatever program is showing you this pop-up. We recommend scanning your computer with an antimalware program SpyHunter and then deleting the malicious files manually.
Removal Guide
Launch your web browser.
Type http://www.spyware-techie.com/download-sph in the address box and hit Enter.
Download SpyHunter-Installer.exe and run it.
Install the program, run it and click Scan Computer Now!
After the scan is complete copy the file path of the malicious file from the scan results.
While in desktop, press Windows+E.
Type the file paths of the malicious files in File Explorer's address box and hit Enter.
Right-click the files and click Delete.
Empty the Recycle Bin.
In-non-techie terms:
Please Install Hd Video Player popup is a annoying pop-up dedicated to promoting a particular media player. This player comes bundled with adware and other undesirable software, so you should not install it and the player itself is not all that great. This pop-up can be shown via adware or other software or certain websites can redirect you to it as well. So you should remove the software that promotes this pop-up to keep your PC safe.