Do you know what Playzy is?
Playzy is an adware application that works by using your possible lack of awareness to insert itself into Internet Explorer and Mozilla Firefox as an extension. It promises fun games that are available with a simple click of the mouse. However, our testing shows that it fails to deliver, as the games we tried barely functioned on our testing computer. These days, just by being free, products are usually afforded some leniency by users, but our experience with Playzy was simply appalling. We think that you should remove it from your computer.
Once on your computer, Playzy creates a button at the bottom left corner of your web browser. When you click it, a pop-up window appears, offering you a list of available games. We tried several, all of them barely worked. It's quite obvious that Playzy wasn't made for gaming.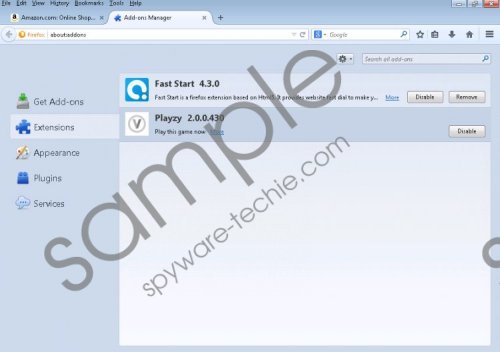 Playzy screenshot
Scroll down for full removal instructions
All adware, Playzy included, does the same thing. It tracks your web activity and shows you commercial adverts. They can get really annoying, as could be testified by anybody who experienced this problem. You should still remove programs like Playzy from your computer.
If your experience doesn't greatly differ from most people complaining about Playzy, you might be wondering how this adware got on your computer in the first place. We found that the most common way to get Playzy is via free software bundles. You should always pay extra attention while installing freeware, because it's known to sometimes include malicious threats. While Playzy isn't malicious, there could be some kind of dangerous software included in the bundle. If you don't pay attention while installing free content, you could get several unwanted pieces of software on your computer. You would have to waste time removing all of them. This issue could be solved with a professional tool that will scan your computer and remove all threats.
While you could get rid of Playzy manually, we do not recommend this option due to the information presented above. It's not very easy to know which programs on your computer are safe, and which ones are dangerous. This is especially true if you download a lot of freeware applications on a regular basis. Automated removal of Playzy is a much easier option. For that, you will need a trustworthy anti-malware program. If, however, you insist on uninstalling it manually, the instructions are provided below.
Manual Playzy Removal
Windows XP
Click the Start button and go to Control Panel.
Click Add or Remove Programs, find Playzy and select it.
Click Remove.
Windows 7 and Windows Vista
Click the Windows button, open the Control Panel.
Click Uninstall a program.
Find Playzy in the list of installed programs, and click it.
Click Uninstall.
Windows 8
Right-click the bottom-left corner of your Desktop.
Click Control Panel, go to Uninstall a program.
Find Playzy in the list of installed programs, and click it.
Click Uninstall.
Remove Playzy from Mozilla Firefox
In Mozilla Firefox, press Ctrl+Shift+A.
Under Extensions, select Playzy and click Remove.
In non-techie terms:
While Playzy promises some useful things, it certainly doesn't deliver on those promises. The games it offers don't work or are simply unplayable, the program spies on you and shows you annoying commercial adverts, essentially making money off of you. You don't get any compensation for it, while putting your computer in danger by redirecting you to websites that could contain threats. We believe that your best option is to remove it.