Do you know what Playtopus is?
Have you found Playtopus installed on the browsers? It is possible you have acquired the program yourself; however, if it has been infiltrated silently bundled with other unreliable software, you should remove it without further delay. Malware researchers suggest you delete Playtopus even if you have installed it intentionally. Unfortunately, the application does not have an official website, which means that you may have entrusted an unreliable source to acquire this application. Is this the case? Then you need to scan the operating system and remove the additionally installed threats if they do exist. Continue reading to find more information about this adware.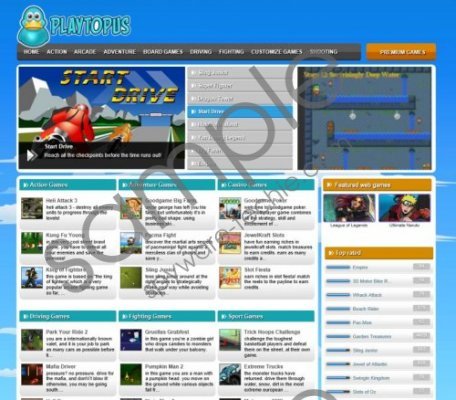 Playtopus screenshot
Scroll down for full removal instructions
Adware stands for advertisement-supported software, and this is the category that Playtopus fits in. Despite the fact that the application is meant to help you use the services provided at playtopus.com, it is clear that it supports third-party services as well. If Playtopus removal is not performed in time, third-party web cookies will be employed to spy on you and random third-party advertisements will show up. Even the Privacy Policy linked to the application suggests that these services are unpredictable and possibly unreliable, which calls for adware removal. Here is an extract you should review:
The Site provides links to the websites of many third parties. If you click through to any of these third party web sites, our Policy will not apply to your use of, and activities on, those third party sites. […] We shall have no responsibility or liability for your visitation to, and the data collection and use practices of, these sites.
If the potential data leaks linked to unsolicited tracking cookies or other risks related to third-party links is not what you want to worry about, we suggest you refrain from clicking on any ads, downloading software or registering for any services until you remove Playtopus.
Manual Playtopus removal can help you get rid of the undesirable application; however, you should stop using the services related to this plugin altogether. Even if the application is deleted, the online games presented on the site may act as backdoors to unreliable third-party sites. You also should not ignore the possible existence of additional malware. Use automatic malware removal software to examine the operating system and delete all existing threats. This software can help you remove Playtopus and protect the system in the future, which is why its installation is something we strongly recommend.
Delete Playtopus from Windows
Delete from Windows XP:
To open the Start menu click the Start button on the Task Bar.
Now select Control Panel and double-click Add or Remove Programs.
Choose the undesirable application and click Remove.
Delete from Windows Vista or Windows 7:
To open the Start menu click the Windows button on the Task Bar.
Click Control Panel to find more options and select Uninstall a program.
Right-click the program you wish to remove and select Uninstall.
Delete from Windows 8:
Tap the Windows key to access the Metro UI menu and right-click.
Select All apps to open a menu, select Control Panel and click Uninstall a program.
Right-click the undesirable application you want to remove and select Uninstall.
In non-techie terms:
Playtopus is a suspicious computer application which is often identified as an advertisement-supported program because of its relation to third parties. If you do not remove the application, it may present pop-up, banner and other kind of ads, and enable redirecting to suspicious websites. We suggest you remove the application and choose more reliable online gaming services. You also should activate full-time Windows security software.