Do you know what PlayThunder Offers is?
PlayThunder Offers is a browser extension for Google Chrome that has been developed by the owner of playthunder.com, a website where users can play various online games. It has been developed to show advertisements, so specialists have classified it as adware. By installing this piece of software on their computers, users agree to see advertisements in exchange for the ability to surf the website for free. Even if you are familiar with the website, you should not agree with the installation of PlayThunder Offers because it will diminish your browsing experience by generating and then displaying all kinds of commercial advertisements on your screen. Additionally, there are no guarantees that you could play games even if you install it on your computer. As has been observed, some users get the message "We do not offer access to our website and/or services to visitors from your country at this time" the second they open this website. If you are one of them, there is no point in installing or keeping PlayThunder Offers installed on the system because nothing will change. Luckily, it is installed on the computer as an ordinary browser extension, so if you decide to remove it, its removal should a relatively easy task.
PlayThunder Offers does not try to hide the fact that it shows commercial advertisements ("this Chrome extension shows advertisements to you while you are on the web"), but this does not make it a more reliable program, so you should snot install it on your computer. There is nothing useful about it. Once installed on the system, it starts showing various commercial advertisements. You will see them no matter what websites you visit. Specialists say that you might find all kinds of ads displayed on your screen, including pop-ups, banners, and in-text advertisements, which are considered the most popular ones. You will sooner or later find all those ads extremely annoying, believe us, but it is not the only reason you should not install PlayThunder Offers on your computer. Research carried out by our experienced malware analysts has clearly shown that advertisements might redirect straight to untrustworthy websites if users click on them. These websites might contain malicious software or, for example, try to extract some personal details from you. Generally speaking, even though commercial advertisements look harmless, they might cause a lot of problems, so it is a very bad idea to click on them.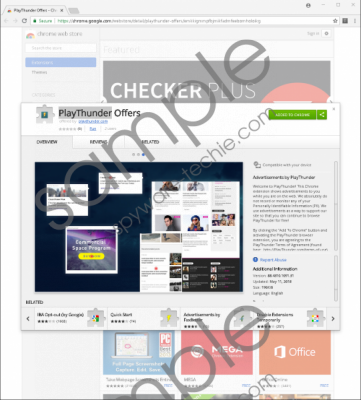 PlayThunder Offers screenshot
Scroll down for full removal instructions
Researchers have found the official source PlayThunder Offers can be downloaded from directly. It has turned out that it is the Chrome Web Store (https://chrome.google.com/webstore/detail/playthunder-offers/emkkigmmpfbjmikfadmfeebomholoikg?utm_source=chrome-ntp-icon). Without a doubt, not all users download it consciously from the web. Some people cannot even explain why they have an adware program installed on their computers, so, according to our specialists, there is a huge possibility that this program is also distributed in software bundles. Bundling is a popular distribution method used to spread all kinds of untrustworthy applications, so the next time you install new software downloaded from the web, you should read the provided information carefully in order not to install untrustworthy software that is usually presented as an additional offer. You must have a security application enabled on your computer as well. It will ensure the maximum system's protection against malicious software.
Luckily, it is as easy to delete PlayThunder Offers as to install it on the system. You will erase it from your computer in a few simple clicks because this adware program is installed as a browser extension on Google Chrome. It seems that only the Chrome version of PlayThunder Offers is available, but we, of course, cannot promise that new versions for other browsers will not be released in the near future too.
Delete PlayThunder Offers
Google Chrome
Open Google Chrome.
Press Alt+F.
Select More tools.
Click Extensions.
Select PlayThunder Offers.
Click Remove.
In non-techie terms:
PlayThunder Offers is not a beneficial application. Instead, it is known to be an adware program. That is, it has been developed to generate and show commercial advertisements to users. Usually, advertisements adware programs show do not look dangerous at all; however, they might redirect users to untrustworthy websites. On top of that, these programs actively collect the so-called non-personally identifiable information to display relevant advertisements to users.