Do you know what PlayFizz is?
PlayFizz is a potentially unwanted program that you probably did not plan to install on your system. Or, you might have wanted to try out some arcade games online, and you had no idea this would lead to PlayFizz entering your system. Either way, now with this application running on your system, you may face a series of annoying happenings. It would be for the best to remove PlayFizz at once because the program does not offer anything useful. Not to mention that it should be rather disturbing to find unfamiliar programs in your system when you do not even remember having installed them.
It is very likely that PlayFizz was installed bundled with freeware. Although the program has an official website that you can easily access via playfizz.com, it is not that simple to download the application from there. What's more, you would not want to remove PlayFizz if you had installed it willingly, now would you?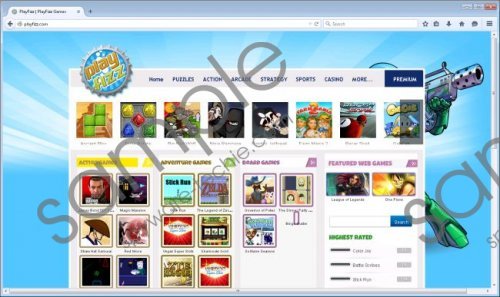 PlayFizz screenshot
Scroll down for full removal instructions
Therefore, we are bound to believe that PlayFizz follows the path of Arcadeparlor, ArcadeTwist, ArcadeGiant, CrushArcade, and many other similar applications that spread around the web in software packages. Have you recently downloaded a freeware application from a file-sharing website? Perhaps a software download was initiated automatically when you opened a random pop-up? If that is the case, then chances are PlayFizz was downloaded and installed then, too.
Potentially unwanted programs are not much of a problem themselves, but we have to keep in mind that they could be exploited by cyber criminals. For example, the guys in our lab say that PlayFizz does not really perform the function it boasts of. The program is promoted as a game manager and downloader. This would mean that the app is supposed to help you download arcade games. However, the actual picture is that of an adware application.
Once PlayFizz is installed on your computer, the program will start collecting information on your web browsing habits. That is done in order to generate tailored pop-up ads and other types of commercial advertisements. These ads will appear on your screen whenever you browse the Internet. Needless to say, constant pop-ups are extremely annoying. They slow down your browser and spam you with potentially corrupted content.
Therefore, it would be in your best interests to remove PlayFizz from your system before you have managed to click any corrupted links on the pop-up ads. This application never checks whether the links in the ads are reliable or not. Such programs are not responsible for the third-party content security, and so you are entirely on your own.
You should not take any chances. Not to mention that sometimes manual removal may not be enough to get rid of all the potential threats. What to do then? Get yourself a licensed antispyware tool. Using a computer security application of your choice is the most efficient way to protect your PC from harm, delete all the unwanted applications, and make sure that you will never be affected by similar intruders again.
PlayFizz might be just one of the many potentially unwanted applications that have entered your system. You need to keep your PC clean and safe, so please do everything you can to get rid of potentially unwanted apps.
How to Remove PlayFizz
Windows 8 & Windows 8.1
Slide the mouse cursor to the bottom right of your screen.
Click Settings on the Charm bar and go to Control Panel.
Select Uninstall a program and remove PlayFizz.
Windows Vista & Windows 7
Open the Start menu and click Control Panel.
Go to Uninstall a program and remove PlayFizz.
Windows XP
Open the Start menu and navigate to Control Panel.
Select Add or remove programs and uninstall PlayFizz.
In non-techie terms:
PlayFizz is an annoying program that is associated with online arcade games. This app will show a lot of pop-ups that will not allow you to browse the Internet properly. PlayFizz is not a computer virus or anything, but you will do yourself a favor if you remove it right away. For an alternative software removal method, you can refer to the secondary set of instructions right below this description. Good luck!