Do you know what Plants Vs Zombies is?
Plants Vs Zombies is an online game that is launched straight from the Desktop of your Windows operating system after downloading it from plants-vs-zombies-game.com. Some users might install this program bundled with third-party software, in which case you might find that your operating system is running slower than usual, and other unfamiliar programs are installed. Even though you would not need to delete Plants Vs Zombies-related browser hijackers if you installed this program from its official website, you might need to remove them if you trust unfamiliar software installers. This report was created after analyzing the suspicious Plants Vs Zombies and learning about the security issues associated with it. If you want to learn more, continue reading, but if you want to remove this program right away, scroll down to the bottom of this report.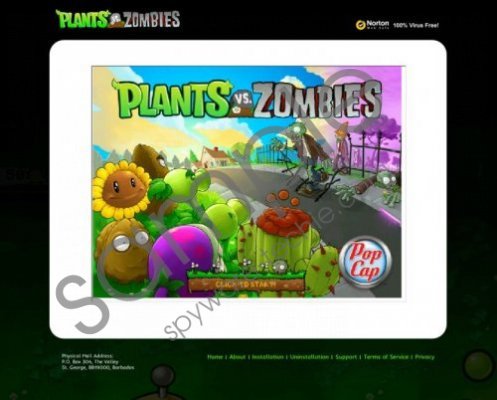 Plants Vs Zombies screenshot
Scroll down for full removal instructions
Surf Island Solutions is the creator of Plants Vs Zombies, and even though it does not seem to be associated with Zombie Invasion, ZombieNews, and other similar programs, our search team has found that these programs are practically identical. We recognize these programs as PUPs (potentially unwanted programs), and there are more reasons to delete them than to trust them. Even though the game introduced by Plants Vs Zombies might be interesting to you, it was found that this potentially unwanted program might have ulterior motives. Plants Vs Zombies installs tracking cookies to track your activity. Every single step you make will be analyzed and recorded by this potentially unwanted program, and the data could be transmitted using the process called Plants Vs Zombiesservice.exe. If you are not comfortable with this activity, it is best to remove Plants Vs Zombies from your operating system right away.
If you have acquired Plants Vs Zombies along with other programs, the manual removal option is not ideal. Even though, there is little doubt that you will not be able to delete Plants Vs Zombies manually, using automatic malware detection and removal software is much more secure. Using this software means that your Windows operating system will be cleaned and will stay malware-free in the future. Needless to say, this is the best option, and you should consider it even if you are set on the manual removal, which we represent using the instructions below. Choose your version of the Windows operating system and follow the guide.
Delete Plants Vs Zombies
Delete from Windows 8.1 or Windows 8
Simultaneously tap Win+R to launch RUN.
Type Control Panel, click OK, and move to Uninstall a program.
Identify the program you wish to remove, right-click it, and select Uninstall.
Delete from Windows 7 or Windows Vista
Click the Windows/Start button on the Taskbar.
Open the Control Panel menu and move to Uninstall a program.
Identify the program you wish to remove, right-click it, and select Uninstall.
Delete from Windows XP
Click the Start button on the Taskbar.
Open the Control Panel menu and click Add or Remove Programs.
Identify the program you wish to remove, click it once, and select Remove.
In non-techie terms:
Even though Plants Vs Zombies looks like a genuine program, it has hidden agenda. It appears that this program collects data about you and injects ads. Although not all ads are bound to be malicious, you might encounter some security risks, which is why removing Plants Vs Zombies is the way to go. If the manual removal guide above is not enough to help you delete Plants Vs Zombies and other unreliable programs, it is best to invest in legitimate security software. Note that the guide below can help you install this software in cases where malware takes over the operating system.