Do you know what Pixel World is?
You need to be selective when you install new programs and extensions because many of them, nowadays, are untrustworthy. Pixel World Extension is a perfect example of that. Although it is free, and it appears to offer a harmless service, there is too little information to be sure that it is harmless. As you know, judging a book by its cover is never a good idea, and if a program or an add-on looks useful, that does not necessarily mean that it is. Our research team has inspected this suspicious extension, and, unsurprisingly, the conclusion is that keeping it installed could be dangerous. If you have no idea why you should delete Pixel World Extension, you might find this report quite informative. If you have your own reasons for removing this potentially unwanted program (PUP), go ahead and follow the guide below. If you have any questions, start a discussion in the comments section.
It is important to touch on the subject of software distribution because, depending on how Pixel World Extension was introduced to you, we might need to discuss other threats as well. So, how did you acquire this mysterious PUP? In the past, Google Chrome users could download it from the Chrome web store (chrome.google.com/webstore/detail/pixel-world/mnnebefcmhnlipookcleffganaajceja), but the installer has been recently taken down. If the store took down the extension themselves, there is no doubt that something is not right. An official installer – at least, to our knowledge – does not exist. So, if the official installer is not found, and the Chrome app installer is dead, how does this extension spread? Third-party software distributors might be to blame for that. Unfortunately, in this case, the suspicious Pixel World might have been dropped onto your PC along with malware. Utilize a legitimate malware scanner to find out if other PUPs or threats require your attention and removal.
Do you know your screen's resolution? If you do not, you might think that Pixel World Extension is a great tool, considering that it promises to tell you "how much pixel your display has." First and foremost, you do not need an extension or a program to learn about this because this data is already available to you via the information that your operating system shares. If you do not know how to find this data, leave a comment below and we will address this issue. Pixel World Extension is not the only program that offers virtually useless services. "Bookmarks Button" is another extension created for the Google Chrome market, and it does not work in a truly beneficial manner either. Overall, that is not the only thing to focus on. It is far more important that no official and legal information supports Pixel World, which makes it unpredictable. Even if the services offered to you were useful, you could not trust them if they were not transparent. Unfortunately, it is most likely that the extension was created to record users' information for marketing purposes without their knowledge, and the pixel-counting service is just a distraction.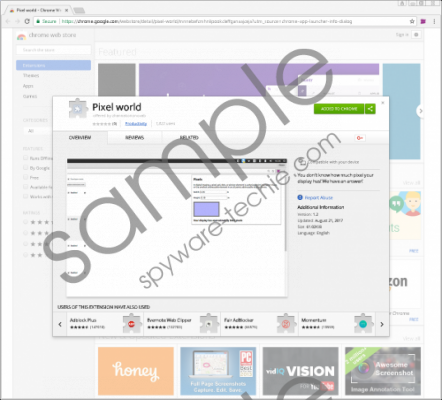 Pixel World Extension screenshot
Scroll down for full removal instructions
What is the situation regarding malware on your PC? Scan the PC to figure out if you only need to remove Pixel World Extension, or if other threats must be considered also. In the first case, following the guide below should be enough. If more threats are detected, using a legitimate anti-malware tool might be best. You can also look for the guides you need on our site. Hopefully, you manage to get your operating system free from malware and potentially unwanted programs, as well as get it protected against unwanted software in the future.
Delete Pixel World Extension from Google Chrome
Open the browser and tap keys Alt+F.
Select More tools to open the menu and click Extensions.
Identify the unwanted extension and click the trash icon.
Select Remove and then restart the browser.
In non-techie terms:
According to research, the Pixel World Extension is not trustworthy or useful, and these are the main reasons for deleting it from the Google Chrome browser. To delve deeper into the issue, it is clear that the service offered by the add-on is not beneficial, and it is feared that its creators have hidden agenda, which is always possible, considering that not much is known about this suspicious potentially unwanted program. The guide shown below can help you remove Pixel World from Google Chrome, but if other threats are discovered, using anti-malware software is the way to go. If you need more information, or you want to ask questions, use the comments area below.