Do you know what Pine Tree is?
Pine Tree is an adware application that belongs to the SuperWeb family. This program employs tracking cookies to collect information on what websites you visit on a daily basis. Unless you remove Pine Tree from your computer, the information collected will be used to display commercial advertisements that are related to your most recent web searches. Pine Tree might look like a useful program that can help you find various deals and coupon offers, but this program should not be trusted because adware apps could prove to be serious computer security threats.
Since Pine Tree belongs to the SuperWeb family, it is no different from AnySend, ClockHand, Nano Surfer, Follow Rules, and many other applications. The program has been created to display advertisements whenever you access supported websites. Although most of the time Pine Tree ads are not malicious, they clearly invade your privacy and do not allow to browse the web properly. On top of that, the customized content on Pine Tree ads might lure you into websites that are related to adware distribution and suspicious online marketing schemes. Please don't forget that Pine Tree and other adware applications do not screen the ad content and they are not responsible for the third-party content safety, so even if you get infected with malware after having clicked some Pine Tree ad (in the worst case scenario), the adware application would not be responsible for that.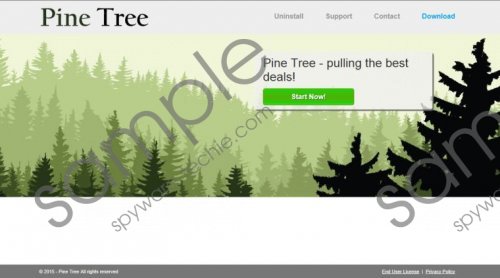 Pine Tree screenshot
Scroll down for full removal instructions
In fact, it is possible to avoid installing Pine Tree if only you stay away from third-party file sharing websites. Needless to say, visiting pinetreeinfo.com is of no use because the official website has nothing to do with the adware distribution. It is only there to make an impression that Pine Tree is a reliable application you can trust. The problem is that you download and install Pine Tree bundled with other potentially unwanted programs from file sharing and torrent websites.
Consequently, you can be sure that Pine Tree is not the only program you need to delete from your computer. If you want to ensure your system's safety, scan your computer with the SpyHunter free scanner right now and remove all the potential threats this scanner detects.
You can uninstall Pine Tree manually because the program has an entry on the list of installed programs. However, quite often manual removal is not enough to get rid of all the potential threats, so do not hesitate to acquire a legitimate computer security application that would put all your worries to rest.
How to Delete Pine Tree
Windows 8 & Windows 8.1
Drag the mouse cursor to the bottom right of your screen.
Wait for the Charm bar to appear and then click Settings.
Open Control Panel and go to Uninstall a program.
Highlight Pine Tree and click Uninstall.
Windows Vista & Windows 7
Open the Start menu and go to Control Panel.
Open Uninstall a program and remove Pine Tree.
Windows XP
Click the Start button and select Control Panel.
Go to Add or remove programs and uninstall Pine Tree.
In non-techie terms:
Pine Tree is an annoying application that shows pop-up ads when you access popular websites. These ads might contain dangerous content, so you need to avoid potential malware infection by removing Pine Tree today. Do all you can to protect your computer from harm.