Do you know what Philadelphia Ransomware is?
Philadelphia Ransomware is obviously a malicious computer infection you want to remove from your system; otherwise, you would not be reading this description. Here, we will tell you more about the program and how it infects your computer. At the end of the description, you can find the manual removal instructions that should help you delete the infection for good. However, please bear in mind that the payload of ransomware applications cannot be dealt with easily. You may need to consider the possibility that you may not be able to retrieve your files.
This application is not something new. Our research team has found that this program is a new version of the Stampado ransomware. Stampado ransomware was first detected two months ago, and this infection uses the AES-256 encryption to lock user's files. Probably, the most important thing about this infection is that it is for sale. So, we can assume that Philadelphia Ransomware is the same infection that has been tweaked according to its new owner's preferences. Perhaps it does sound absolutely evil, but it is the reality of ransomware infection: quite a few programs are sold and used by third parties. There are people who actively engage in cyber crime just to make more cash.
We believe that it is a lot easier to prevent Philadelphia Ransomware from entering your computer rather than fend the actual infection on-board. For that, it is necessary to know the ransomware distribution methods, so you would be able to apprehend something suspicious when it comes your way. As far as this infection is concerned, it is mostly distributed via phishing emails. It means that the program's installer file usually spreads around as an attachment so spam emails that try to convince you to enter your data somewhere so that the hackers could obtain your sensitive information.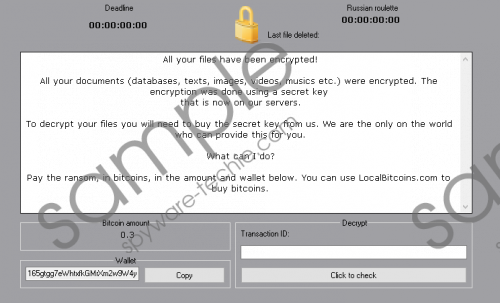 Philadelphia Ransomware screenshot
Scroll down for full removal instructions
Thus, you would decrease the risk of potential infection if you were to ignore such messages. Do not download attachments from odd or suspicious email messages because it is very likely these attachments carry a Trojan, a worm, or a ransomware infection. However, if you already opened the file and launched the infection, then you need to figure out how to battle it. One "good" thing about Philadelphia Ransomware is that the program will not try to hide its presence like most of the Trojan-based infections too. It will be very explicit about what it wants from you and what it wants you to do.
The program will lock an number of your files, including these files types: *.7z; *.asp; *.avi; *.bmp; *.cad; *.cdr; *.doc; *.docm; *.docx; *.gif; *.html; *.jpeg; *.jpg; *.mdb; *.mov; *.mp3; *.mp4; *.pdf; *.php; *.ppt; *.pptx; *.rar; *.rtf; *.sql; *.str; *.tiff; *.txt; *.wallet; *.wma; *.wmv; *.xls; *.xlsx; *.zip. It also adds a new extension to the newly encrypted files, called ".locked." So you will be able to see which files have been affected by the application. Nevertheless, Philadelphia Ransomware does not target Windows system files, your browsers, and the files of a security tool, so it means that you can download and install a security application of your choice get rid of Philadelphia Ransomware.
The Stampado ransomware itself already has a decryption tool that allows users to decrypt their files for free. Unfortunately, there is no such tool available for Philadelphia Ransomware as of yet, but we can assume security specialists will come up with one soon enough. Meanwhile, you can restore your files from an external backup. Yet, before you transfer the healthy copies of your documents back into your computer, you should delete Philadelphia Ransomware because the infection may affect the healthy files, too.
Manual removal is not complicated, but we think that if you are not used to working with the Registry Editor, perhaps it would be better to leave it to the professionals. We are not saying that you need to give a call to a technician (although that might also be a good idea). It is enough to invest in a powerful antispyware tool that would scan your system and delete all the malicious programs and files at once.
Only then can you save the copies of your original files on your PC. Aside from that, it is also strongly recommended to keep a sentinel program on all the time because you need a guardian that would safeguard your system against similar threats in the future.
How to Remove Philadelphia Ransomware
Press Win+R and the Run prompt will open.
Type %AppData% into the Open box and click OK.
Go to Roaming and delete the lsas.exe file.
Press Win+R again and type regedit. Click OK.
Go to HKEY_CURRENT_USER\Software\Microsoft\Windows\CurrentVersion\Run.
Delete the Windows Update key under Run.
In non-techie terms:
It will seem that this dangerous infection has come out of nowhere, but the truth is that you installed it onto your system yourself. Philadelphia Ransomware will lock your most important files and it will require you to pay a ransom fee in order to get them back. Instead of paying anything to these criminals, you need to follow the instructions above to remove Philadelphia Ransomware for good. When you are done with the manual removal, run a full system scan with the SpyHunter free scanner to search for more dangerous files and applications. Please remember that malicious infections seldom travel alone.