Do you know what Pgpsnippet Ransomware is?
Pgpsnippet Ransomware is a major invader of privacy. When it attacks operating systems, it attacks all files stored within them. For example, if you have documents, archives, media files, or images stored on your computer, they are all collectively encrypted by the malicious ransomware. When files are corrupted, there is nothing that you can do to open them, and that is because you need a special decryptor for that. Although the creator of the ransomware wants you to pay money for this tool, our research team is warning that a free decryptor exits. If you cannot find it yourself, please post a comment below, and we will assist you. Whether you recover your files or lose them for good, you need to remove Pgpsnippet Ransomware, and that is what this report is meant to help you with. Continue reading to learn more, or scroll down below to find a guide that shows how to delete the infection manually.
How did you discover the malicious Pgpsnippet Ransomware? Did you find that a strange extension was added to your personal files' names? This extension is ".decodeme666@tutanota_com," and it is added during the encryption of files. As you might have figured out yourself, the extension represents an email address, and it is also introduced to the victims of the ransomware via the ransom note file that is called "!!!README_DECRYPT!!!.txt". Some victims will recognize the activity of malware only after they open this file and read the message inside. According to this message, you are meant to pay a ransom of 500 USD in Bitcoins to the 1Nvhebx6EHmFmXokSbXMxbCNGN2fwtgq8W Bitcoin wallet, which, of course, belongs to the creator of Pgpsnippet Ransomware. After that, you are meant to email decodeme666@tutanota.com to confirm the payment. It is suggested that if you follow the instructions, a decryption key and the instructions how to use it will be sent to you. Do we recommend paying the ransom? The only thing we can recommend is deleting the ransomware. Unfortunately, some users might believe that this is the only option for them, especially when they find a warning suggesting that attempts to decrypt files manually could cause irreversible damage. This is just a scare tactic that might also make you postpone the removal.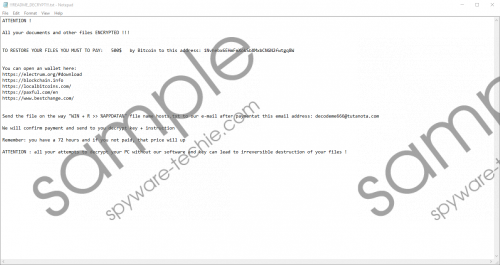 Pgpsnippet Ransomware screenshot
Scroll down for full removal instructions
Just like Rebus Ransomware, Scarab-Walker Ransomware, Scarab-Horsuke Ransomware, and all other threats that encrypt files, the devious Pgpsnippet Ransomware uses security backdoors to slither into your operating system. Whether these backdoors are exploited by malware-downloading threats or by you (for example, by downloading unfamiliar freeware), the infection is meant to slither in silently. If your operating system is not prepared to fight off malware, you do not stand a chance at finding and deleting the file-encryptor in time, unless you are highly experienced with malware or you are expecting the invasion. Since decrypting files is generally impossible when it comes to ransomware, Windows users need to take all measures to prevent attacks, which include installing anti-malware software, backing up files for added protection, and being mindful while online. The good news is that Pgpsnippet Ransomware appears to be decryptable, in which case, you might not need to worry about losing files even if backups do not exist. This is a very rare occasion.
Once you decrypt your files using a tool created by malware experts – if you cannot find it, let us known in the comments section – you need to delete Pgpsnippet Ransomware. Where is the launcher of this devious infection? If you cannot find it, you might have to install an anti-malware program to find and remove it for you automatically. This is not an alternative option. It is the BEST option because anti-malware software can successfully clean your operating system and keep it clean thereafter. Keep in mind that many other threats exist, and most other file-encryptors are not decryptable. To ensure that this malware cannot slither into your operating system, you need to secure it appropriately.
Remove Pgpsnippet Ransomware
Delete the launcher of the ransomware. If you cannot find it, try deleting recently downloaded files in these directories:

%USERPROFILE%\Desktop
%USERPROFILE%\Downloads
%TEMP%

Delete the ransom note file, !!!README_DECRYPT!!!.txt.
Empty Recycle Bin and then install a trusted malware scanner to check if you have successfully cleaned your operating system.
In non-techie terms:
There should be no doubt in your mind that Pgpsnippet Ransomware is malicious. After all, it slithers in silently, encrypts personal files, and demands a ridiculously big ransom payment in return for something we cannot even guarantee exists. If your files were encrypted by this malware, there is a good chance that you can recover them using a third-party decryptor. Paying for the one offered by cyber criminals is not advisable. Whether or not you get your files back, you must remove Pgpsnippet Ransomware, and you can do that using anti-malware software or the guide above. Since eliminating the threat manually can be challenging, we suggest installing software that could also help you keep your operating system protected.