Do you know what Pets by MyWay is?
Pets by MyWay is a browser add-on that supposedly can provide you with fun homepage backgrounds. Although this program does provide different animal wallpapers, it is not compatible with just any home page, which is what most users expect. Instead, this suspicious program changes your homepage (or New tab) to home.pets.myway.com. If you download this suspicious extension onto Internet Explorer, you might have the option to select whether you want to modify your homepage or new tab, in which case, the changes will surprise you less. However, if you use Chrome and Mozilla Firefox browsers, the changes might be made without your permission, and that is why so many computer users believe that they need to remove a browser hijacker. Although it is not a hijacker per se, you should delete Pets by MyWay.
The suspicious Pets by MyWay was developed by Mindspark Interactive Network, Inc. This infamous company is responsible for GameTrekkers Toolbar, GasGlance Toolbar, Celebrities by inMind, and other suspicious browser extensions that probably require removal. Pets.myway.com is the website that promotes the strange extension we are discussing in this report, but it seems that third-party sources could be used for its distribution as well. If you have not downloaded Pets by MyWay from its official site, it is most likely that it was introduced to you via a third-party installer, which means that other unreliable programs could have been installed along with it. Do you need to remove these programs? Although you might be able to research these programs manually, we recommend using an up-to-date malware scanner that will identify which programs, besides Pets by MyWay, you need to remove.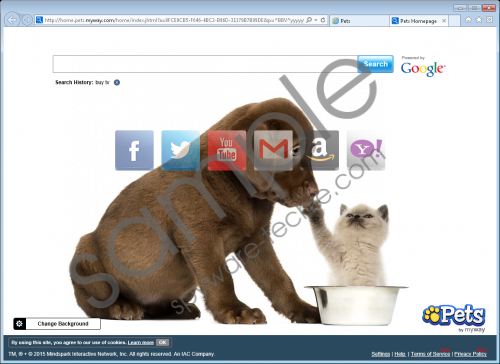 Pets by MyWay screenshot
Scroll down for full removal instructions
The cute animal wallpapers associated with Pets by MyWay is what lures computer users in, but the real goal of this program is to advertise third-party services/products. This is done by showing ads and replacing regular search results with the sponsored ones. Unfortunately, many computer users do not realize that they cannot trust home.pets.myway.com because it appears to show the search results from Google. In reality, the search results are modified, and you should not trust this search tool. If you have already interacted with the ads injected via Pets by MyWay, it is possible that you have been scammed, or malicious programs were downloaded. Of course, if these programs exist, they require removal as well.
You can remove Pets by MyWay with a single click. The instructions below show how to delete this unwanted extension along with the homepage. Chrome and Firefox users are likely to get rid of the unwanted homepage tool by deleting Pets by MyWay, but it is most likely that Internet Explorer users will need to fix both of these issues separately. Afterward, install an automated remover to clean your system from remaining threats and to keep it protected from malware that could attack in the future.
Remove Pets by MyWay
Remove from Mozilla Firefox
Open the browser, tap Alt+T, and choose Add-ons.
Move to the menu on the left and click Extensions.
Remove the unwanted add-on.
Tap Alt+T again and select Options.
Move to the menu on the left and click General.
Delete/overwrite the Home Page URL and restart the browser.
Remove from Google Chrome
Open the browser, tap Alt+T, and select More tools.
Click Extensions and identify the unwanted extension.
Click the trash icon and choose Remove.
Move to the menu on the left and click Settings.
Under On Startup click Open a specific page or set of pages.
Delete/overwrite the unwanted URL.
Click OK and restart the browser.
Remove from Internet Explorer
Open the browser, tap Alt+T, and select Manage Add-ons.
Move to the menu on the left and click Toolbars and Extensions.
Disable the unwanted extension and click Close.
Tap Alt+T again and select Internet options.
Click the General tab.
Delete/overwrite the Home Page URL.
Click OK and restart the browser.
In non-techie terms:
The suspicious Pets by MyWay is an extension you cannot trust. This unreliable program was designed to showcase third-party advertisements, and, for all you know, they could be misleading. All in all, we are sure that you did not install this program to see ads, which is what makes this program extremely unreliable. You definitely should remove Pets by MyWay if it has modified your homepage or New tab without permission. It is easy to delete this unwanted program manually (use the guide below), but we strongly recommend utilizing an automated remover to delete any other threats.