Do you know what PennyBee ads are?
PennyBee ads are commercial offers, discounts, and coupons displayed by a computer program called PennyBee. This software program is aimed at proving you with the best deals on the Internet so that you can save your time and money. The program is promoted at pennybee.com and works on Internet Explorer, Google Chrome, and Mozilla Firefox. Due to the fact that it displays third-party advertisements, which are not related to your search queries and browsing interest, PennyBee is categorized as adware. If you do not want to waste your time trying to rid your browsers of PennyBee, you should implement a reputable spyware and malware removal tool.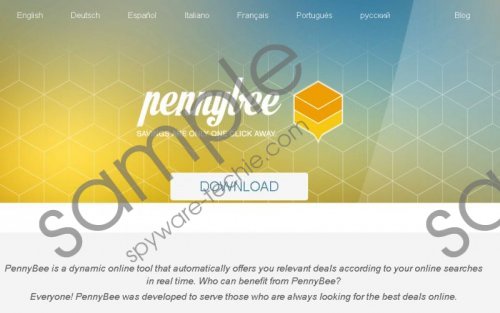 PennyBee Ads screenshot
Scroll down for full removal instructions
Once installed, PennyBee start running the pennybee.exe*32 process, which you can find in the Task Manager.
PennyBee ads are displayed on numerous websites, including shopping websites, video and music streaming websites, file exchange websites, etc. Like other adware programs, PennyBee is not associated with the third-parties advertised. The display of third-party advertisements does not imply any endorsement of third-parties' activities, and, if you want to prevent deceptive PennyBee ads, you should remove the adware program from your browsers as soon as you can.
It is also important to note that the official website of the program does not provide much information about the program. The websites seems to be available in several languages, including English, Italian, and French; however, the privacy policy is given in one language. Besides, the wording of the privacy policy and the terms of use are unrelated to the PennyBee computer program.
If you already have PennyBee on your computer and have no intention of using it, do not delay the removal of the program. Like other adware programs, PennyBee may monitor your online actions and send the information to third-parties. Adware developers and their sponsors are mainly interested in your search terms, clicks, impressions, time spent on various websites, and the like. Some personally identifiable information may also be recorded by PennyBee and used to design targeted advertisements.
We strongly recommend that you remove PennyBee ads from the browsers and pay more attention to your online security. Programs such as PennyBee are bundled with other free programs and distributed by multiple freeware websites.
Below you will find our step-by-step instructions which should help you uninstall PennyBee; however, we recommend that you implement a reputable security tool. Trojan horses, rogue anti-virus programs, and other threats cannot be fought off by security programs, so do not hesitate to install one if you do care about your privacy.
How to get rid of PennyBee ads
Windows Vista and Windows 7
Click Start.
Select Control Panel.
Click Uninstall a program.
Remove the unwanted program.
Windows 8
Press the Windows key to get to the Start menu.
Right-click and select Control Panel.
Click Uninstall a program.
Remove PennyBee.
Windows XP
Open the Start menu.
Click Control Panel.
Select Add or Remove Programs.
Uninstall the adware program.
In non-techie terms:
PennyBee is an adware program, which you can remove from the computer using a reputable spyware and malware removal program. If you do not know how to install our recommended program SpyHunter, use the below-given instructions.