Do you know what PDF To Pro is?
PDF To Pro belongs to the category of potentially unwanted programs. In most cases, applications fall under such a category because they have undesirable functionality. Our researchers say that the extension may have more than one quality that could annoy users. If you want to know about them and learn how this extension could be spread or how to remove it from your browser, we encourage you to read the rest of this article. We can offer our removal guide as well that shows how to erase PDF To Pro from Google Chrome, which is the only browser that it works with, step by step. If you need more assistance or want to ask something about the potentially unwanted program, do not hesitate to leave us a comment.
Where do applications like PDF To Pro come from? Many of them have official websites from which they can be downloaded. Some extensions that work on Google Chrome are spread through Chrome Web Store, although some get removed after some time. It is possible that this potentially unwanted program was erased from Chrome Web Store too, since it was on the platform when we started researching it, and now it seems to be no longer there. The third popular way to spread such extensions is to promote them on pop-ups, file-sharing websites, etc. Thus, if you wish to avoid potentially unwanted programs, we advise being cautious when you are offered new tools that you do not know. It would be best to find more information about them before deciding whether to install them or not. We especially advise looking for information about a program's developers and expert/user reviews.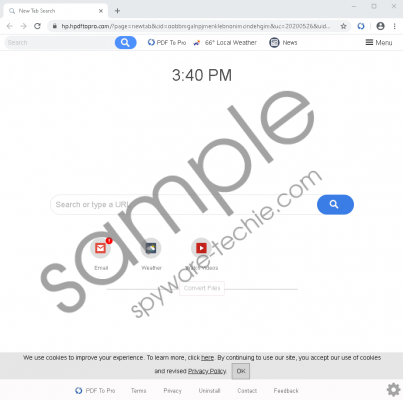 PDF To Pro screenshot
Scroll down for full removal instructions
If you install PDF To Pro, you might be asked to allow it to "Replace the page you see when opening a new tab." As a result, the extension might change your new tab page with a website called hp.hpdftopro.com that contains a search box and redirects to a modified version of the Yahoo search engine if a keyword is entered. While the results might be displayed by Yahoo, keep it in mind that since the extension is using a modified version of it, it could inject ads with third-party advertisements. Moreover, the application may ask for permission to read your browsing history. Doing this would allow PDF To Pro creators to see what kind of websites you visit, what you search for on the Internet, what ads you click, etc. All this data could be used to determine your interests and create targeted ads. Of course, we are not saying that you will necessarily see targeted ads from the potentially unwanted program or third parties, but it is possible that you might. Keep in mind that targeted third-party ads can be not only annoying but also unreliable, which is why we advise not to let you guard down.
Of course, if you find it annoying that the application may change your new tab page, introduce you to a search website that uses a modified search engine, or read your browsing history, you could erase it. Our researchers say that users can delete PDF To Pro manually by accessing the browser's extensions menu. If you need step by step instructions to complete this task, you could check the removal guide placed below. The other way to eliminate PDF To Pro is to employ a reputable antimalware tool and do a full system scan.
Erase PDF To Pro
Launch Google Chrome.
Press ALT+F.
Tap on More Tools and select Extensions.
Choose PDF To Pro.
Press Remove.
Click Remove again to finish.
In non-techie terms:
PDF To Pro is one of those applications that change browser preferences to introduce users to a search engine of its own. Our researchers say that the extension's search engine might be called hp.hpdftopro.com or similarly and that it could redirect users to a modified Yahoo search engine. In other words, the application's search engine might be unable to gather and display search results without the Yahoo search engine's help. Also, since it uses a modified version of it, it is possible that the potentially unwanted program could inject gathered results with third-party ads. Such content could be tailored as well since the tool might read browsing history, which would allow it to learn about the user's interests. If you do not like the extension's provided search engine and would not want to risk seeing tailored third-party ads, you could erase PDF To Pro. One way to get rid of it is to follow the steps available in our removal guide. The other way is to scan your computer with a reputable antimalware tool that could take care of the potentially unwanted program.