Do you know what PCTuner is?
Even though PCTuner suggests that it can optimize your operating system and boost its operating speeds, we can assure you that this program is completely useless. Our malware analysts identify PCTuner as a potentially unwanted program for several different reasons, and its uselessness is the first of them. If you think that this program will offer you beneficial services, you are completely wrong. Instead of working the way it promises, it will put your virtual security at risk. If that is not what you want to face, you must delete PCTuner from your operating system as soon as possible. Continue reading our report to learn more about the risks you are likely to encounter if you do not remove this PUP.
Our research team has not found an official site representing PCTuner. So, how did you install this PUP onto your computer? Most users acquire this program packaged with other programs. It is also possible that you will be introduced to this program via pop-up and banner ads represented by adware. If this is the case, you need to make sure that you delete this adware as well. Of course, it is likely that you will need to delete even more unreliable programs if you trust software bundles. All in all, whichever way this threat has entered your operating system, you need to run a malware scanner to find if PCTuner is the only threat that deserves removal. Needless to say, if the scanner detects other threats, you MUST remove them.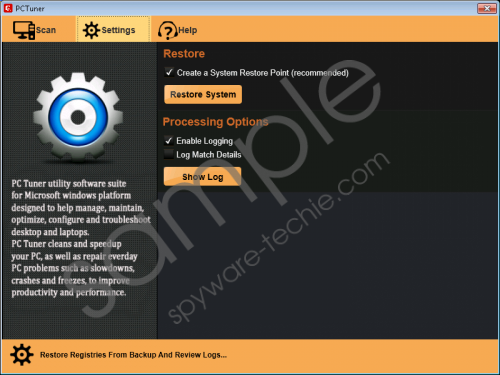 PCTuner screenshot
Scroll down for full removal instructions
PCTuner is very similar to A1PCCleaner, because, once installed, both of these programs present fake scanners. Once PCTuner is done "inspecting" your operating system, you might be convinced that there are many registry errors that you need to remove. Unfortunately, this PUP is useless when it comes to that. Instead of removing or fixing errors, this infection introduces you to a number that you supposedly need to call for further assistance. 844-883-2489 and similar numbers should not be called because they belong to schemers who are on the other end of the line. Malicious parties could use this scam to trick you into paying money for useless services. Moreover, your own number and other information you provide could be recorded and used for other scams in the future. Are you now ready to remove PCTuner?
We are sure that you want to delete PCTuner after learning how malicious this program can be. Keep in mind that misleading scanner reports and messages will pop up automatically until you remove PCTuner from your PC. Luckily, the program, published by Tuneup computer, is not so difficult to delete. Follow our guide below to delete it from your own Windows operating system. Afterward, it is important to install a legitimate security tool to remove the remaining threats and to restore the security of your operating system, so that other threats cannot enter in the future.
Delete PCTuner from PC
Delete from Windows XP:
Open the Start menu and click Control Panel.
Double-click Add or Remove Programs.
Remove PCTuner from the list.
Delete from Windows Vista/Windows 7:
Click the Windows logo on the Taskbar.
Open Control Panel and click Uninstall a program.
Right-click PCTuner and select Uninstall to remove it.
Delete from Windows 8/Windows 8.1:
Click the Search icon on the Charm bar.
Find Uninstall a program and right-click PCTuner.
Select Uninstall to remove this PUP.
In non-techie terms:
There is no doubt that PCTuner is an unreliable program, and the sooner you delete it from your operating system, the better. If you have already called the numbers provided by this PUP, be aware that you might receive misleading phone calls. If you have also disclosed other private information, make sure you do everything in your power to protect it against scams. If you cannot remove PCTuner in a regular manner, install an authentic malware remover to do it for you.