Do you know what PCEasyNow is?
Have you downloaded PCEasyNow hoping that it would scan and clean your operating system for free? Although you can install the scanner for free, the suspicious program will not do anything until you "register" for the services, which includes paying at least $29.97. This price is not that big, and you might decide to pay it, but there is one problem: The allegedly beneficial optimization tool is not worth it. By paying money for its services you would be wasting money, and, naturally, that is not what we recommend. In fact, if you have downloaded this suspicious program onto your computer, we advise that you delete it right away. The good news is that the removal of PCEasyNow is very straightforward, and if you have not paid any money for it, you should escape the entire situation without any regrets. Obviously, if you have paid money for the useless services, you might want to try and get it back first.
The installer available on pceasynow.com is published by Speedy HLDGS, but it is likely that the installer of the potentially unwanted program (PUP) could also be distributed via third-party sources where it could be bundled with third-party malware. While PCEasyNow is classified as a threat that deserves removal, much more serious infections exist, and they could have entered your operating system as you yourself executed an unreliable software bundle. It is strongly recommended that you install a trusted malware scanner to inspect your operating system, and if any serious threats are found, you need to think if maybe they need your attention first. Hopefully, that is not the case, and you do not need to focus on other threats, but if you do, look up guides available on this site. Of course, you must not forget about PCEasyNow itself because although it is not incredibly malicious, you still need to delete it.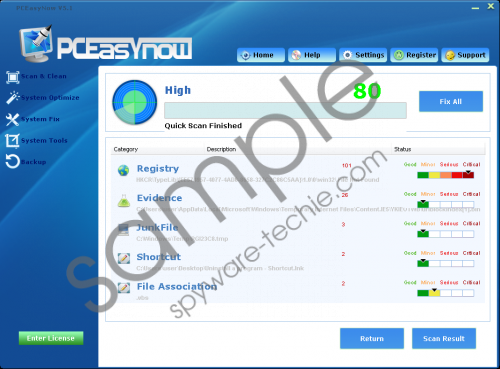 PCEasyNow screenshot
Scroll down for full removal instructions
Our research team equates PCEasyNow to PCOptiClean, Smart PC Mechanic, and many other well-known system optimizers that pose as highly beneficial tools, when, in reality, they are completely useless. The PUP discussed in this report is meant to clean the Registry, delete junk files, and do other great things to ensure that your operating system runs smoother than ever. The problem is that PUPs like this one usually detect false positives, which basically means that harmless or unimportant elements are identified as issues that require immediate fixing. First of all, for the most part, the empty registries and junk files that PCEasyNow discovers can be deleted manually, and you do not need a lot of experience for that. Besides offering useless services, this PUP also could collect information about you and your operating system, which is another good reason to delete it from your operating system.
As you can see, uninstalling PCEasyNow via the Control Panel is possible. This potentially unwanted program does not leave any leftovers behind, and so we believe that even inexperienced users will be able to delete the suspicious PUP on their own. Should you encounter any issues, remember that you can always communicate with us via the comments section below. Also, you can install anti-malware software to clean your operating system automatically, which might be the best option if multiple threats or potentially unwanted programs have invaded your operating system.
Remove PCEasyNow
Windows XP
Click Start on the Taskbar and open Control Panel.
Double-click Add or Remove Programs.
Select and Remove the undesirable application.
Windows Vista/Windows 7/Windows 8/Windows 10
Launch Explorer by tapping keys Win+E.
Enter Control Panel\Programs\Programs and Features into the bar at the top.
Select and Uninstall the undesirable application.
In non-techie terms:
It is recommended that you delete PCEasyNow from your operating system because this allegedly reliable system optimizer is unlikely to offer you any reliable services. On the contrary, it is likely to present you with unrealistic scanner results just to trick you into paying for useless services. On top of that, as our research team informs, information about you could be collected by this PUP as well. Before you jump to the removal, it is recommended that you scan your operating system to check if there are any other threats on your PC. If there are, you should consider installing an anti-malware tool to have all of them deleted at the same time. If other threats do not exist, most likely, it will be enough for you to remove PCEasyNow using the instructions shown above.