Do you know what PC Speed Cat is?
PC Speed Cat is a computer system optimization tool. If your computer is running slow, and some programs do not seem to open properly, this application should help you fix that. Nevertheless, if you opened this page, it probably means that you did not intend to have this program on your computer, and thus you are looking for information about it.
Even though this application is not a malicious system threat, you should remove PC Speed Cat from your computer if it wasn't your plan to use it. While you are at it, you should also look for other unwanted applications that might be on-board.
You are probably wondering why we mention other potential threats. That is because PC Speed Cat is a potentially unwanted program. Such types of applications often travel in groups. It means that they come bundled in software packages, and this usually happens when users download programs from third-party sources.
For example, it is very often that we find the programs we want at file-sharing websites. Such pages offer you to download a number of applications for free, and we probably do not think twice before clicking that Download button. Nevertheless, it would not be a good idea to download and install everything from such pages.
The installer file may carry more than just one program, and if you go through the installation process automatically, you would miss the chance to avoid adding programs like PC Speed Cat. That is actually the most common method of distribution for such unwanted applications. After all, if users download and install such apps willingly, they do not complain about it, right?
Despite the fact that this program may jump out of the open, it cannot be considered a dangerous security threat because it is legitimate, and it has an official homepage. Yes, you can also download PC Speed Cat from pcspeedcat.com. The website will tell you that this program is "the one-stop PC Performance Optimization software for everyone." If you have this program, you can "quickly scan your PC, and let PC Speed Cat determine your optimal settings."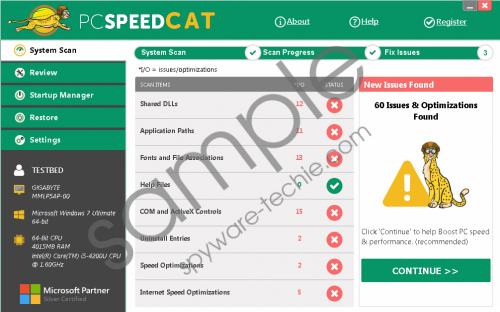 PC Speed Cat screenshot
Scroll down for full removal instructions
We tried using the application downloaded from its official website. Please note that the free version of the app is the trial version, and you would have to pay for the subscription if you wanted to use all the features advertised by the program.
When we scanned our PC with PC Speed Cat, it found some errors and listed them in several categories. For example, it can find issues with shared DLLs, application paths, ActiveX Controls, and so on. Needless to say, unless you register (or purchase the full version for 30.25 USD), the program would not let you fix those issues. What's more, PC Speed Cat will also tell you that it can solve three issues for free, just to let you see how it can improve your system's performance. However, when we tried using this offer, we couldn't find any additional information about the said issues, so it was hard to say whether they were solved or not.
On top of that, if you purchase the full version of PC Speed Cat, the program may collect some of your personal information. Of course, it will have your address, name, your credit card information because you need to purchase the program for it to work in the first place. The program's privacy policy states that the "contact information you provide on your order form may be used occasionally by Speed Cat, LLC or select partners to announce free updates to software items ordered, special offers and related promotions." If you are not comfortable with such personal information collection, you should definitely remove PC Speed Cat right now.
Luckily, uninstalling the application via Control Panel is easy. Not leftover files remain, and you can continue using your computer as if nothing has happened. However, if you think that there might be more undesirable apps on-board, you can always scan your PC with the SpyHunter free scanner. And if you find more unwanted programs, you can remove them automatically with a security tool of your choice. Just do everything you can to protect your personal information and your system from malicious exploitation.
How to Delete PC Speed Cat
Windows 10, Windows 8.1, Windows Vista, Windows 7
Press Win+R and enter Control Panel. Press OK.
Open Uninstall a program and remove the application.
Windows XP
Press the Start menu button and select to Control Panel.
Double-click Add or remove programs and uninstall the app.
In non-techie terms:
PC Speed Cat may not be a malware infection, but when a program pops up on your screen unexpectedly, it can be quite confusing. Computer security experts recommend removing unwanted applications like PC Speed Cat that could have entered your system by chance. What's more, such programs are the first sign that there could be real threats on your system, so please do not hesitate to perform regular system scans with a powerful antispyware tool.