Do you know what PC Smart Cleanup is?
If you ever come across an application that goes by the name of PC Smart Cleanup, make sure not to download or install it because it happens to be yet another potentially unwanted program. Even though, on its official web site it is advertised as a great optimization tool, malware researchers at Spyware-Techie.com have dubbed this application in such a way after its extensive analysis, which revealed that it functions rather invasively. Another major reason for such classification is its questionable distribution, which could prove to be quite dangerous. To learn more about the inner works of this potentially unwanted program, make sure to read the rest of our detailed report. Alongside such valuable information, we also present virtual security recommendations that will help you maintain a fully secure operating system at all times. Finally, our researchers have crafted a detailed removal guide that will help you delete PC Smart Cleanup without a lot of trouble.
PC Smart Cleanup should work as a tool that should optimize your personal computer for the smoothest performance possible. Once it is installed on your computer, the potentially unwanted program in question immediately starts a full system scan whether you like that or not. The scan itself is rather quick. Right after it is over, you will be provided with a large list alleged errors that are responsible for the slower performance of your personal computer. While it might seem frightening to an untrained eye, our malware experts have taken a deeper look and noticed that this optimization tool might treat temporary files and inactive registry entries as serious issues. This seems like a scare techniques to lure users into buying the full version of this optimization tool since that is the only way to repair the so-called errors on your computer. Under no circumstances make a payment for this potentially unwanted program because its overall functionality is not worth it, to say the least. You can find more efficient optimization tools online that could be free of charge. It should be self-evident that there are no good reasons to keep this dubious tool up and fully running on your PC. Thus, it should not be surprising that malware experts at Spyware-Techie.com urge users to delete it without any hesitation. To do that in just a few simple steps, make sure to follow the detailed instructions that we provide below.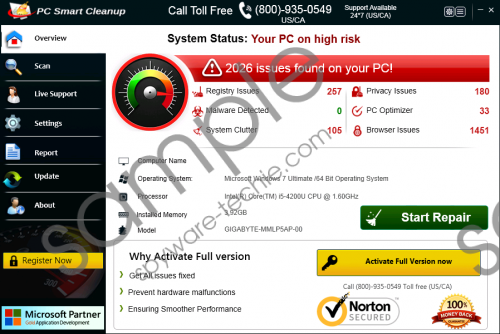 PC Smart Cleanup screenshot
Scroll down for full removal instructions
To have a fully secure operating system at all times, every Internet user must take a few simple precautionary steps to improve your overall virtual security. It is critical to always learn about an application that you wish to have active on your personal computer before obtaining and installing it because malware developers tend to trick users into acquiring their suspicious programs with the help of hoax advertising tactics. It is also critical to bypass all unauthorized third-party download sites as they are infamous for being the primary source of bundled installers, which often host devious applications. The potentially unwanted program in question can be distributed via software bundles; therefore, we highly advise you check your PC for other questionable programs if you already have PC Smart Cleanup active on your computer. Furthermore, we urge users to pay their full attention to every single installation step since you could be presented with a chance to cancel the setup of some unwanted application. Finally and most importantly, make sure to obtain and install a professional antimalware tool if you do not have one already. Such a tool is critical because it can detect and delete any suspicious program in a fully automated manner. These seemingly simple precautionary steps will allow you to keep your PC safe and secure at all times.
To remove PC Smart Cleanup from your PC make use of our detailed instructions that we provide below. It is important to delete every single bit of this potentially unwanted program; otherwise, you might have to face the unwanted outcomes of an incomplete removal. For example, just a few traces of PC Smart Cleanup could be more than enough to restore it without your knowledge. In other cases, leftovers linked to this potentially unwanted program could be enough for it to continue its questionable functionality. To be sure that every single bit of PC Smart Cleanup has been terminated entirely, make sure to recheck your entire operating system for anything associated with it. Such analysis of your personal computer should be executed right after you are done with a manual removal guide.
How to remove PC Smart Cleanup from your computer
Open your File Explorer.
Go to C:\Program Files (x86).
Right-click a folder called PC Smart Cleanup and select Delete.
Go to C:\ProgramData.
Right-click a folder called PC Smart Cleanup and select Delete.
Click the Windows button.
Type regedit into the search box and select it.
Go to HKEY_CURRENT_USER\SOFTWARE.
Right-click a registry key called PC Smart Cleanup and select Delete.
Right-click your Recycle Bin and select Empty Recycle Bin.
In non-techie terms:
If you find manual removal a bit too complicated, do not worry. Malware researchers at our internal labs have crafted an alternative removal guide. By following the instructions that we present below you will be able to remove PC Smart Cleanup automatically.