Do you know what PC Reg Boost is?
The free version of PC Reg Boost might seem to be quite an annoying tool since it may show you lots of irritating pop-ups urging to fix the detected errors. Unfortunately, the trial version allows only scanning the computer, so to fix the located issues automatically you would need to buy a license. Given the application was classified as a potentially unwanted program (PUP) we advise you not to rush with its purchasing and learn more about PC Reg Boost first. Our researchers doubt the program is as useful as it is advertised. It looks rather expensive too since the application detects and fixes only Registry errors. If you are actually considering investing in any software, we would advise you to get a reputable security tool instead that could fix not only issues but also guard the system against threats. Lastly, if you do not want to see its annoying pop-ups, we advise deleting the PUP with the removal guide placed below.
Like we mentioned earlier, the trial version has limited tools as it can only "identify errors" or "scan the bugs." In other words, it can find issues, but the user cannot fix them. Nonetheless, while the software is installed, it might display various warnings claiming "Your Computer is on Risk and Need to be Fix" or "Your Computer Needs To be Clean," and so on. These might contain a button called Fix Now; if you click it, you would probably be asked to buy a license for PC Reg Boost. Such pop-ups might appear at any time even if the program is not opened. Our researchers say it might be impossible to close them without killing a particular process through the Task Manager. This type of behavior makes us doubt the software's reliability.
Furthermore, the free trial application is just for 30 days, while the full version can be purchased from one to three years pricing from $23.99 to $49.99. These prices may not seem to be so high, but given the application is rather questionable, it does not look like a good idea to invest in it. Our researchers doubt that fixing Registry errors could boost your computer dramatically and make it more secure to use as its creators promise in the software's official site. We should also mention that the other program's suggested tools are standard Windows features, e.g. Clean Manager, System Restore, and other. It means they come with the computer's operating system, so there is no need to install other tools to access these features. If you decide not to invest in PC Reg Boost and you do not want to see the annoying pop-ups again, we recommend erasing the PUP.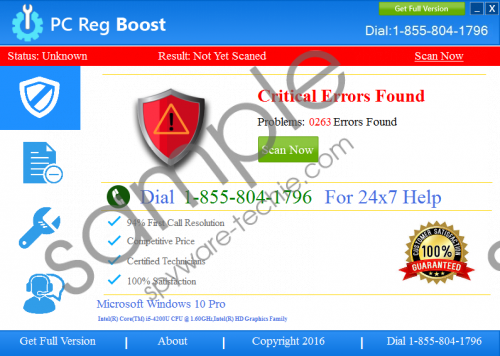 PC Reg Boost screenshot
Scroll down for full removal instructions
PC Reg Boost can be deleted rather easily as you can uninstall it through Control Panel. If you are not sure how to use this feature, you could follow the removal guide placed below this text; it will show you how to access Control Panel and uninstall the PUP. Plus, we will put steps explaining how to close the application's displayed pop-ups. The other way to get rid of the program would be to acquire a reputable antimalware tool and let it erase the unwanted program for you. If you need more help or there is anything else related to the application you wish to know, you could try to add a comment below the article or message us through social media.
Get rid of the annoying warnings
Press Ctrl+Shift+Delete.
Launch the Task Manager.
Click the Processes tab.
Find a process titled as WindowsGen.exe, select it and click the End Task button.
Close the Task Manager.
Remove PC Reg Boost
Windows 8 & Windows 10
Launch the RUN (Win+R).
Type Control Panel and click OK.
Select Uninstall a program.
Mark the PUP and press Uninstall.
Windows Vista & Windows 7
Open the Start menu.
Choose Control Panel.
Pick Uninstall a program.
Select the unwanted application and click Uninstall.
Windows XP
Click on Start and press Control Panel.
Select Add or Remove Programs.
Mark PC Reg Boost and press Uninstall.
In non-techie terms:
PC Reg Boost is not malicious or harmful to the computer, but it might not be as helpful as you might hope either. Our researchers do not trust the application because it shows suspicious pop-up warnings claiming the computer's state is critical and urging to fix it immediately. If you do not see such messages from your operating system and the computer seems to work normally, we doubt the PUP's identified issues are that critical. The annoying pop-ups might be shown to the user just to convince him to purchase the software's license. Under such circumstances, we advise you to spend money on a more trustworthy tool that would be worth to invest in. If you take our advice, we recommend removing the application with the instructions placed above, so you would not have to see the program's displayed irritating pop-ups ever again.