Do you know what PC Junk Optimiser is?
Although computer users are made to believe that PC Junk Optimiser is a beneficial program, our research team recognizes it as a potentially unwanted program, a PUP. PC_Junk_Optimiser is another name that this program is recognized by, but we can assure you that this changes nothing. Once installed, this PUP will introduce you to pop-up alerts suggesting that your operating system is infected with malware that, supposedly, requires removal. Considering that this program promises to clean junk files and tracking cookies, it is strange that it is able to detect malicious programs. In fact, it is incapable of doing that, and the alerts it produces are fictitious. Due to this, in some cases, this PUP is classified as a rogue antivirus program. The thing is that this program does not promise to clean your operating system; it simply misinforms you. Nevertheless, you MUST delete PC Junk Optimiser.
An official download page that would represent PC Junk Optimiser does not exist. It appears that this PUP is distributed via third-party installers, and there is a great chance that it is spread along with other suspicious programs. Note that these programs might require removal as well. The fact that this program does not have an official website is alarming because authentic programs are usually represented via official websites that provide legal information. The lack of this kind of information is a red flag that should not be dismissed. If you cannot access a Privacy Policy or other legal information, how can you trust a program? The second red flag is the activity of PC Junk Optimiser. Why did you install this program? Was it because it promised to eliminate tracking cookies and clean your browsing history? Well, you can do all of this yourself, and you do not need a tool for it. Of course, legitimate system optimizers do exist, but you need to do a little bit of research before installing any software. If you do not think that the absence of the official website or the uselessness of the services provided is strange, you should become more alert once you start encountering the misleading pop-ups.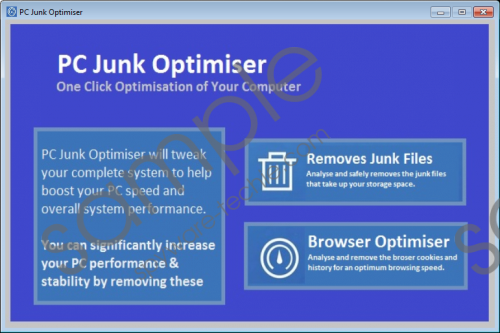 PC Junk Optimiser screenshot
Scroll down for full removal instructions
The pop-ups shown by PC Junk Optimiser will warn you that malicious infections have invaded your operating system. Although the name of this PUP is not attached to the fake alerts, we can assure you that they belong to this program. These pop-ups are meant to convince you that you need to contact the so-called Tech Support, at 889978786786786. Obviously, this number is not right. In fact, you might encounter a different number if this potentially unwanted program gets updated. Regardless of which number you see, you should not call it. If you call this number, you might face virtual schemers, and they might trick you into disclosing personal information, paying for useless services, or even letting in other infections. On top of that, you might be heavily charged for the call, and that is not what you want, is it? You have to be just as cautious when it comes to Zeast PC Tuneup, One10 PC Cleaner, and other PUPs that were created by the developers of this PUP.
If you uninstall PC Junk Optimiser, the pop-ups will continue showing up, and, if you still want to clean your operating system manually, you have to follow the guide below. You can also use automated malware detection and removal software to eliminate this potentially unwanted program, and researchers in our team agree that this is the best option. If you implement this software, you will not need to worry about the removal of the remaining computer infections as well! On top of that, the protection of your operating system will be handled for you.
Delete PC Junk Optimiser from Windows
Launch Explorer (simultaneously tap Win+E).
Enter %UserProfile%\Local Settings\Application Data\ or %LOCALAPPDATA% into the address bar.
Delete these folders: Boxer, OptimiserUn, and Optimiser.
Launch RUN (simultaneously tap Win+R).
Type regedit.exe and click OK.
Navigate to HKEY_CURRENT_USER\Software\Microsoft\Windows\CurrentVersion\Run.
Right-click and Delete this value: Boxerexe.
Navigate to HKEY_CURRENT_USER\Software\Microsoft\Windows\CurrentVersion\Uninstall\.
Right-click and Delete this key: PC_Junk_Optimiser.
In non-techie terms:
PC Junk Optimiser might look like a useful program; however, you need to eliminate it from your operating system as soon as possible. This potentially unwanted program is unpredictable, and its services are useless. It is unlikely that this PUP will remove junk files or cookies, and you certainly should not trust it to detect malicious computer infections. Keep in mind that this unreliable program will release misleading pop-ups that cannot be stopped if you uninstall the PUP. However, if you follow the instructions above, we are sure that you will eliminate this threat successfully. All in all, reliable anti-malware software is irreplaceable when it comes to the removal of malicious programs, and we suggest installing it right away. Use the guide below if malicious programs on your PC are making it impossible to install anti-malware software.