Do you know what PC HealthBoost is?
Have you downloaded PC HealthBoost onto the operating Windows system? We recommend that you do not register for the full version of this application because it will cost you money. Even though the program is advertised as a free system optimizer, the only free-of-charge element of the program is its scanner. As soon as you install the program onto the computer, you will be introduced to a number of programs which exist within your personal computer. The scanner may indicate that you need to fix or remove DLLs, application paths, files, uninstall entries, ActiveX Controls or MRU lists. Unfortunately, there are no guarantees that the program will help you restore the so-called PC health. Therefore, we do not recommend registering with the program. You definitely should not expect it to guard your system against malicious infections which can only be deleted with the assistance of automatic malware detection and removal software. Continue reading to learn how to remove PC HealthBoost.
Even though PC HealthBoost can scan your personal computer for free it certainly cannot fix the listed issues for free. This suspicious Boost Software Inc. product may convince you to reveal your zip code and email address for the supposed registration. Unfortunately, this is not all that you need to give up in order to register for the fully registered version of this system optimizer. If you go through with the registration process you will lose up to $39.97, and this is not the money you should waste on this supposedly reliable program. In fact, we do not even recommend installing it from pchealthboost.com because this may lead to the installation of other potentially unwanted programs. Our researchers have discovered that MyPCBackup may be installed alongside, and if this happens, it is likely that you will notice "Reminder Your computer is not" pop-ups soon enough.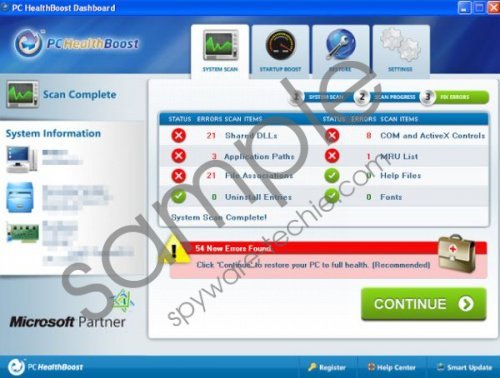 PC HealthBoost screenshot
Scroll down for full removal instructions
Authentic system optimizers can help you enhance the running of the operating Windows system; however, we recommend having PC HealthBoost deleted from the system. This potentially unwanted program may come bundled with other undesirable applications. What is more, it may trick you into exposing your home address and even email address. This is why even if you do not purchase the full-version of the system optimizer you may discover your inbox flooded with different recommendations and offers. We advise following the removal instructions below to get rid of the undesirable software.
Delete PC HealthBoost
Delete from Windows 8:
Right-click on the Metro UI start screen and select All apps.
Click Control Panel and select Uninstall a program.
Right-click on the application you wish to remove and select Uninstall.
Delete from Windows Vista & Windows 7:
Navigate to the left of the Task Bar, click Start and then Control Panel.
Select Uninstall a program and right-click the application you wish to remove.
Click Unisntall to get rid of the undesirable program.
Delete from Windows XP:
Open the Start menu and select Control Panel.
Double-click Add or Remove Programs.
Locate the undesirable application, click it and select Remove.
In non-techie terms:
PC HealthBoost is a computer application which promises you to enhance the running of your operating Windows system. You need to be extra cautious with the installation of this tool because potentially unwanted programs (e.g. MyPCBackup) could be attached to the download. We warn you that in order to activate the services of this suspicious application you will be asked to pay money, which is why we strongly recommend refusing the program and installing authentic and reliable Windows security tools instead.
Aliases: PCHealthBoost.