Do you know what PC Guard 360 is?
What do you expect from a program called "PC Guard 360?" You probably expect it to provide a well-rounded computer protection. The information presented at liveresolvesoft.com reinforces this idea; however, our research team has found that this program is neither trustworthy nor useful. In fact, we believe that you must delete this potentially unwanted program from your operating system, and if you want to learn why, this is the report you need to read. If you find that we have not answered all of your questions regarding the removal of PC Guard 360, please comment down below.
Liveresolvesoft.com is the official representative of PC Guard 360. This website provides a working installer along with highly attractive information indicating that this PUP is capable of many things. It is suggested that if you install this program, you will have invalid registry errors fixed, your system response time improved, registry defragmented and compacted, and your PC performance "drastically" improved. Although the installer of this suspicious program is free, the program itself is not free, and you probably know this if you have installed it from its official website. The one year license for one person costs $11.99, and the so-called "lifetime" version is retailed at $29.99. It is unlikely that users would pay the price right away. Although many users are careless when it comes to downloading freeware, most are cautious when payments are involved. In this case, you might install the PUP thinking it provides free services. If you do, you will be introduced to a free scanner that will list different errors that supposedly need fixing. If you choose to fix them, you will be asked to pay money. Some users delete this PUP right away because they feel deceived.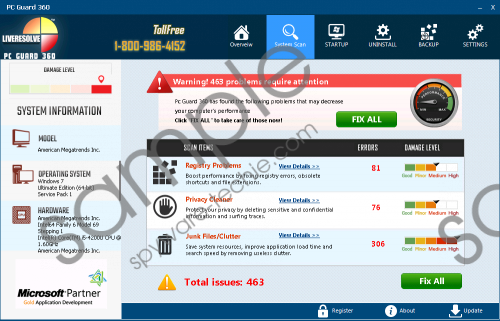 PC Guard 360 screenshot
Scroll down for full removal instructions
Although PC Guard 360 is introduced as a beneficial registry optimizer/cleaner, it was found that the services of this PUP are fictitious. In fact, the errors discovered by this program include empty registries and temp files that, of course, cause no harm. The fact that the scan is completed within a few seconds and that hundreds or even thousands of errors are detected are both red flags. A legitimate registry cleaner would take some time to analyze every registry, and it is highly unlikely that as many errors would be detected. Unfortunately, many computer users forget this as soon as they see that they need to delete junk files and fix errors associated with Registry Problems or Privacy. What is more, you might be tricked into thinking that the PUP is a Microsoft partner, even though that is not the case. On top of that, it is suggested that you have the option to get your money back if you are dissatisfied with the services. We are not sure if that is true. All in all, PC Guard 360 is not a genuine program, and you should not invest in it, or call the helpline associated with it at 1-800-986-4152. It is most likely that the information you will receive will be misguiding and untruthful as well.
There are plenty of reasons why you need to delete PC Guard 360 from your PC, the main of them being that this program is completely useless. According to our research, it is not enough to uninstall this program from the computer to get rid of it. Additionally, you need to remove a few leftovers, and we list them in this removal guide. Make sure you uninstall the PUP and eliminate every single one of the remaining components. Afterward, scan your computer to see if you maybe need to delete third-party malware, which is possible that you need to do, considering that this program could be spread by third-party installers as well.
Removal instructions
Remove from Windows XP
Move to the Taskbar and click Start to open a menu.
Select Control Panel and move to Add or Remove Programs.
Click the undesirable program and select Remove.
Remove from Windows Vista & Windows 7
Click the Windows/Start icon on the left of the Taskbar.
Open the Control Panel menu and click Uninstall a program.
Right-click the app you want to delete and select Uninstall.
Remove from Windows 8, Windows 8.1, & Windows 10
Launch RUN (tap Win+R) and enter Control Panel.
Click Uninstall a program (under Programs/Programs and Features).
Right-click the app you want to delete and select Uninstall.
Remove these leftovers
Launch Explorer by tapping the Win+E keys on the keyboard.
Enter %LOCALAPPDATA% into the address bar.
Right-click PC Guard 360 and select Delete.
Enter %UserProfile%\Local Settings\Application Data\ into the address bar.
Follow step 3.
Enter %PROGRAMFILES%\Live Resolve Soft\ into the address bar.
Follow step 3.
Enter %PROGRAMFILES(x86)%\Live Resolve Soft\ into the address bar.
Follow step 3.
Enter %WINDIR%\System32\Tasks into the address bar.
Follow step 3.
In non-techie terms:
Potentially unwanted programs are not always clearly unreliable, but Guard 360 leaves no doubt about that. It is obvious that this suspicious PUP cannot be trusted because it is incapable of detecting real registry issues, and it certainly cannot fix them. The best thing you can do in this case is uninstall this program and delete its leftovers. Although manual removal attracts most users, you should also consider using automated malware detection and removal software. This software can delete the rest of computer threats, as well as keep them away for good.