Do you know what Pc Cleanup 2018 is?
Pc Cleanup 2018 is a questionable application that may sneak onto your system even without your knowledge. Although this is a legitimate PC optimizer program that you can download officially, it is also possible to find it in software packages, which may also carry malicious software installers. Our researchers say that this potentially unwanted program (PUP) is not different from any previous system cleaner and optimizer like Smart System Care. As a matter of fact, such a PUP is worth no money at all because it does not do anything substantial to your PC performance; not something you could actually measure or see. IT experts usually consider these optimizers as scams for a good reason; they mostly show made-up scan results to frighten inexperienced users to purchase the full version to fix all the listed issues. This is a rather aggressive way to promote an application, one that should not be tolerated. Therefore, we suggest that you remove Pc Cleanup 2018 from your computer so that it is really cleaned up this time.
The promotional site, updatemypcs.com, offers you the usual professional look like in the case of such programs. We cannot say anything negative about it, and it is not our goal to do so for no reason, either. However, we do not think that people would easily find this page even if they run a web search on PC cleaner programs. What are the chances to find this PUP in the results with such a name containing all general keywords? Not too much. However, if you search the web using the name of this PUP, you may find out why malware hunters advise you to delete Pc Cleanup 2018 as a PUP. We recommend that you always run such a search before downloading any software really.
The real issue here though is that this PUP can slither onto your system without you specifically wanting to install it. This can happen when you install a free software package that you downloaded from a suspicious source like a fake torrent site. We advise you to always use official sites to download any software or update. Downloading programs from shady sources can easily result in your dropping an infectious bundle onto your machine. The same can happen when you click on corrupt third-party ads or links on suspicious websites that are generally known for hosting such content (porn, gaming, dating, video streaming sites, and so on). This obviously mean that your computer could be swarming with threats right now and most likely, this PUP is the least of your worries. Still, we recommend that you delete Pc Cleanup 2018 first and then, use a reliable online malware scanner to detect all other possible threat sources on your system.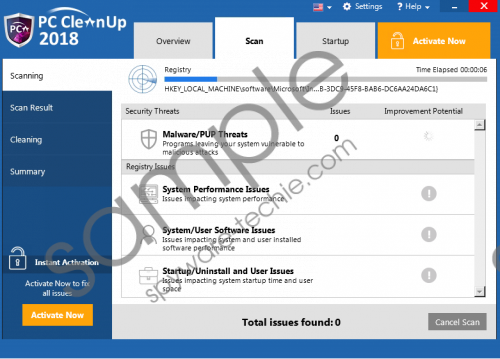 Pc Cleanup 2018 screenshot
Scroll down for full removal instructions
As we have said, this software provides you with a system scanner for the free version, which may return with horrible results regarding the health of your PC. This results page could list dozens or hundreds of even "critical" issues, which are mostly unused junk files, temporary files, and registry entries on your system. Most likely, this PUP cannot even detect malware properly even though it does claim so. We believe that these scan results only serve one reason: To convince you to purchase the full version for $23.95. We would not tolerate such aggressive marketing trick at all. The truth is, to our knowledge, there is no research proving that such an optimizer can cause any visible performance enhancement on your PC or any PC for that matter. This is one of the main reasons why we tell you to remove Pc Cleanup 2018 from your computer.
Please follow our guide below this report if you know now what to do with this PUP. Even if you were to decide to keep it, we strongly recommend that you clean every other threat from your computer if you do not want to experience further exposure to potentially harmful third-party contents or online scams. If you cannot seem to be able to keep your PC clean in the future, we advise you to download and install a trustworthy malware removal program, such as SpyHunter.
Remove Pc Cleanup 2018 from Windows
Windows Vista, Windows 7, Windows 8, Windows 8.1, and Windows 10
Press Win+R and enter control panel in the field. Press OK.
Select Uninstall a program.
Click on the uninstaller and click Uninstall.
Windows XP
Click Start and navigate to Control Panel.
Choose Add or Remove Programs.
Click on the uninstaller and click Remove.
In non-techie terms:
Pc Cleanup 2018 is a new PC optimizer that landed in our internal lab and got labeled as a potentially unwanted program by our researchers. This PUP does not seem to be any different or any more reliable than all the other useless optimizers in this category. Although it claims to scan your PC for malware and PUPs as well, we have found that it only lists temporary files and unused registry entries as system issues to be fixed. However, in order to fix these, you need to buy the full version for $23.95. The problem is, even if you buy it and fix all the alleged issues, which can reach hundreds, there is no real gain here; your PC will not perform any better, or, at least, noticeably for you. Since this PUP can enter your system in a freeware bundle packed with malware infections, we suggest that after you remove Pc Cleanup 2018, you also take care of the rest of the threats. For full protection of your PC, we advise you to install a reliable anti-malware program.