Do you know what PC Clean Plus is?
Its advertising campaign claims that "PC Clean Plus is the best registry cleaner and optimizer to improve your PC's performance by removing all registry errors." However, we beg to differ and suggest that you remove it since it is not the best one, and it is not worth paying for because, make no mistake, its developers have created this program to make easy money. We argue that this application is not worth paying for since there are free and arguably better alternatives. Also, the claim that tidying up your computer's registry will improve its performance is an overstatement. It is evident that this program's developers use clever marketing tactics to get people to download it. Therefore, we want to debunk the half-truths and fallacies about it.
Let us begin our analysis with how PC Clean Plus is disseminated. Our security analysts have found that this application is distributed using two methods. The first one is via its dedicated distribution website at Pccleanplus.com. This website features PC Clean Plus's standalone installer as well as some crafty promotional slogans as quoted in the introduction. In short, this site makes a good impression, but it is just like hundreds of other sites that promote potentially unwanted programs. Usually, they have little text, large images, and colorful designs, and Pccleanplus.com meets all of this criteria. The other method used for distributing this application is software bundling. This is an elusive distribution process, so we are not sure with which applications and where it is put up for download. One thing is for sure, however, that the websites that feature this bundled program are of questionable legitimacy.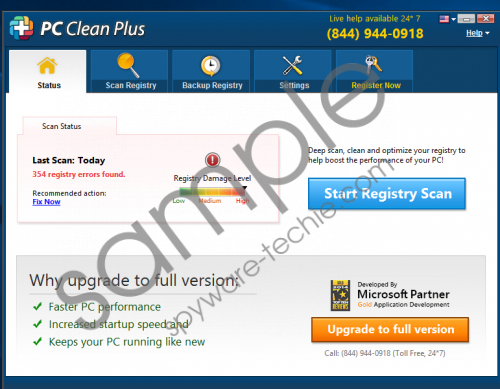 PC Clean Plus screenshot
Scroll down for full removal instructions
Also, our security analysts have found that this program's developer Jawego Partners LLC based in Lake Oswego, Oregon, USA. This developer is unknown, so we cannot say whether their software is good or bad especially since PC Clean Plus appears to be its only release at the moment. Therefore, our researchers will keep an eye on this developer to obtain more conclusive information.
Regardless for where you download this application, upon installation, it will launch automatically and perform a full scan of your computer's registry. Of course, the scan will result in multiple "threats" of varying severity. However, there is nothing severe about empty registry keys that were left after uninstalling some other application. However, PC Clean Plus would like you to think so and pay $29.95 USD for it, especially now when its developers apply a discount which seems to last indefinitely. Note that it will scan your computer each time you boot it up since its installer created a scheduled task for it. Also, it created a scheduled task for running the scan every two hours and occasionally checking for updates.
We want to point out that its scan results are legitimate, and you can go to every registry key this program detects as a threat. This is crucial since most registry cleaners that have been classified as PUPs do not provide any information about their scan results at all. However, some of PC Clean Plus detections are unjustified as they classify certain file extension information as a threat which is just not the case. Therefore, we believe that under the wrong circumstances, this application may damage your system's registry. Thus, we think it would be wise if you uninstalled it and got a more reliable and above all free program since free registry cleaners are in ample supply.
In conclusion, c is a potentially unwanted program that has been released by a new previously unheard of software developer. Our researchers say that this application is not all that useful particularly as it is paid. It can delete empty registry keys of previously uninstalled programs, but this just does not affect the overall system performance. Therefore, we suggest that you remove PC Clean Plus a soon as the opportunity arises. If you do not know how to uninstall a program via Control Panel, then consult the instructions provided below.
PC Clean Plus removal guide
Windows 10/8.1/8
Navigate the mouse to the bottom-left side of the screen.
Right-click on the Start menu/Start screen icon.
Click Control Panel and go to Uninstall a program.
Identify the application and double-click on it.
Uninstall.
Windows 7 and Vista
Navigate the mouse to the bottom-left side of the screen.
Click Start and select Control Panel.
Click Uninstall a program.
Find the undesirable application and right-click on it.
Click Uninstall.
Windows XP
Navigate the mouse to the bottom-left side of the screen.
Open the Start menu and click Control Panel.
Select Add or Remove Programs.
Find the unwanted program and click Remove.
In non-techie terms:
PC Clean Plus is a potentially unwanted program that scans your computer for empty registry keys and deleted them accordingly. However, this program is not all that useful since cleaning the registry of empty keys does not improve system performance like this program's developers claim. Thus, we suggest that you keep your money and uninstall this application.