Do you know what Paysafecard Ransomware is?
Paysafecard Ransomware is a dangerous computer infection that can literally crash your system for good. This program has been created to rip you off, and it will try its best to convince you that you must pay the ransom fee in order to retrieve your files. Ransomware programs usually encrypt user files with a powerful algorithm, and unless you have the original decryption key, it is virtually impossible to unlock the files. Therefore, the thing you have to focus on is the ransomware removal. You can remove Paysafecard Ransomware by following the instructions below this description.
According to our researchers, this ransomware program should spread in the "usual ways." This would mean that the infection will utilize spam email campaigns to reach its victims. On the one hand, such distribution pattern is rather annoying because users are basically spammed with spam email messages that supposedly tell you about some important report or an online shop invoice. Of course, if you look carefully at these messages, you will see that most of them are not related to the websites you shop at. Also, they might come from the "banks" where you have never opened an account.
Those messages are only designed to look like the real deal. Unlike most of the spam emails, they manage to escape getting filtered into the Junk Mail folder. What's more, some of them might be urging the users to open the attached files as soon as possible, and that is when the users get tricked into thinking that those files are something important. However, please note that reputable companies are very careful about using files to distribute important information. They are more likely to use embedded content or an attached HTML file (which would open a third-party link). Not to mention that you can always scan the files before opening them. This is where a licensed antispyware program becomes handy.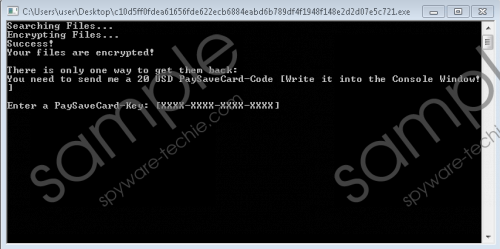 Paysafecard Ransomware screenshot
Scroll down for full removal instructions
Yet, what happens if you, unfortunately, install Paysafecard Ransomware on your computer. Well, this program works just like any other ransomware app out there, but the difference is that it can also crash your system. Normally, when a ransomware program infects a target system, the ransom note it drops remain on your screen even if you restart your computer. Paysafecard Ransomware, on the other hand, does not allow you to do so. Of course, you can restart your PC, but then the malware will not allow your system to load. In other words, by restarting your PC, you will lose the chance to remove this infection manually. So we hope you have not done that yet.
When the program is launched, the infection encrypts almost all files on your system, except for the data stored in the %ProgramFiles% and %Windir% directories. From this, we can tell that this infection is quite similar to the Master Ransomware application, although it is clear that the two programs are rather different, too. The thing that strikes as odd about Paysafecard Ransomware is that aside from scrambling the byte information within the file (encrypting) and adding the additional extension to the filename, the infection also changes the original filename. For example, cat.jpeg after the encryption might look like UHJvY2Vzc0hhY2tlci5sbms=.rnsmwre. So it might be hard to recognize your files in the first place.
There is no public decryption tool available for this application, so you will probably have to restore your files from an external backup or some cloud storage. Just please remember that you should try restoring your files only when Paysafecard Ransomware is removed from your system. Otherwise, the infection might try encrypting your files again.
As mentioned, when you get down to the removal process, the most important thing is to keep your computer on and do not restart it! You will have to kill any suspicious processes via Task Manager, and then you will need to delete the most recent files from a number of directories. If you think that this is too much of a trouble for you, you can terminate the infection automatically with a reliable security tool.
Should you have more questions about this infection or how to protect your computer from harm, do not hesitate to leave us a comment. Our team is always ready to assist you.
How to Delete Paysafecard Ransomware
Press Ctrl+Shift+Esc to open Task Manager.
Open the Processes tab.
Highlight suspicious processes and press End Process.
Press Win+R and enter %TEMP%. Press OK.
Delete the most recent files and open the Downloads folder.
Remove the most recent files and go to your Desktop.
Delete the most recent files.
Run a full system scan with SpyHunter.
In non-techie terms:
Paysafecard Ransomware is a dangerous infection that will block you from accessing your files. This program will demand that you pay a ransom fee to get your files back, but you should know better than that. You have to destroy Paysafecard Ransomware right now, and then look for ways to retrieve your encrypted files. You can always ask for professional help if you cannot figure out this problem, but whatever you do, do not give the cyber criminals what they want.