Do you know what Passwidget is?
Passwidget, also spelt PassWidget, is an adware program, which you can install on the computer when running the installer of some free program. The adware program is installed as a browser add-on and is compatible with Internet Explorer, Google Chrome, and Mozilla Firefox. It is crucial to pay close attention to the license agreement and other information provided by the installation wizards because you should be aware of the changes that will be made within your browsers. Passwidget is not a dangerous computer program but it collects information about computer users and, hence, should be removed from the computer.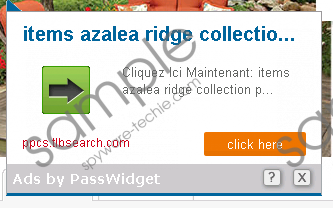 Passwidget screenshot
Scroll down for full removal instructions
Passwidget ads, some of which are labeled 'Ads by Passwidget', belong to third-parties seeking to drive more traffic to their websites. Passwidget display coupons, in-line advertisements, web banners, iframe ads, and other advertisements. The wording of some of the advertisements may be in other languages than English, and Passwidget ads can appear on basically ant website, including those websites that do not disturb visitors with annoying pop-ups and web banners.
It is advisable to ignore Passwidget ads even though not all of them are malicious. The risk of getting the computer infected increases every time you click on a Passwidget advertisements. There are multiple malicious websites that are advertised by programs such as Passwidget, which is why it is advisable to remove this browser add-on from the computer.
As regards the capability of the program to monitor your, the program automatically collects information about your Internet usage. It records your clicks, impressions, search terms, browsing history, your IP address, browser settings, browser type, and other non-personally identifiable information, which is collected for the purpose of defining your browsing habits and providing you with targeted advertisements. Even though the program is not aimed at stealing sensitive information, some personally identifiable information may be recorded while you are browsing social networking websites. In order to prevent contextualized ads, remove Passwidget from the computer and make sure that the computer is properly protected against malware and spyware.
The below given instructions may help you uninstall Passwidget but we recommend that you rely on a reputable spyware and malware prevention tool. Why? Your computer needs protection against Internet-based threats, which can get access to your computer in multiple ways. Your personal data may be stolen and used to commit some serious crimes, so do not wait any longer. Our team at spyware-techie.com recommends using SpyHunter because this program can remove Passwidget and safeguard the system against multiple threats.
How to remove Passwidget
Windows Vista and Windows 7
Click Start.
Select Control Panel.
Click Uninstall a program.
Remove the adware program.
Windows XP
Click Start.
Select Control Panel.
Click Add or Remove Programs.
Uninstall Passwidget.
Windows 8
Press Win+R and enter control panel.
Click OK.
Select Uninstall a program.
Remove the unwanted program.
In non-techie terms:
Passwidget is an adware program which is aimed at making you visit many different websites. Passwidget does not own the pop-ups delivered to your browsers, and, if you want to get rid of them in no time, implement our recommended security tool. In case you do not know how install it, use the below given instructions.