Do you know what Pass to Post is?
Some computer users are tricked into thinking that Pass to Post is a beneficial program. In reality, it is absurdly useless, and you will receive no benefits from installing it onto your computer. Unfortunately, the promises of this useless piece of software intrigue users who install it only to find out that its main objective is to show advertisements. We are sure that you have figured this out by now because you are researching how to delete Pass to Post. Well, you are in the right place because we have thoroughly analyzed this advertising-supported program, and we have found some interesting information. Besides learning how this strange program works and why it has been created, you will also learn how to remove it from your Windows operating system.
As soon as our research team came in contact with Pass to Post, it became obvious that it belongs to the Injekt family. Inject is an engine that different parties can use to develop software. The funny thing is that all programs created using this engine are identical, and, since their developers are concealed, it is possible that they belong to the same party. Whether you are dealing with Innovate Direct, Pop Bubbles, Search Window, or any other ad-supported program within this family, you will face the same risks. Even if you do not interact with the ads shown – which are our main concern – you might become a target of different parties. According to the Privacy Policy available at passtopost.com, this adware can collect personal and non-personal information, as well as share it with third parties. Even if you do not become a victim of virtual identity theft, data regarding your browsing history and behavior could be used by advertisers to create more attractive offers. The problem is that these advertisers might be schemers in disguise, which means that the attractive offers shown to you could be misleading and malicious.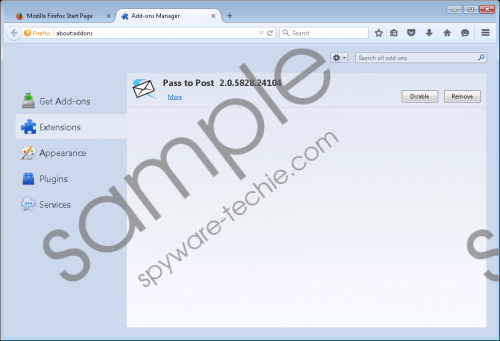 Pass to Post screenshot
Scroll down for full removal instructions
Whether you are introduced to pop-ups, shopping ads, deals, surveys, or other kinds of offers, you should not interact with them. The ads shown by Pass to Post – or the adware that comes bundled with it – could be used to expose you to malware or mischievous scams. If you believe you have become a victim of scams already, make sure you protect your operating system, virtual accounts, and virtual identity appropriately. If you do not take care of this right away, you might suffer consequences. As mentioned previously, other ad-supported programs could be active on your PC injecting misleading ads as well, and you need to be just as careful with them. Unfortunately, even more aggressive, malicious programs could have been installed onto your PC if you have used a malicious software downloader to acquire Pass to Post. You can identify these threats using a malware scanner.
Removing undesirable software is important, especially if this software is proven to be unreliable and even dangerous. As you now know, you should remove Pass to Post from your operating system to stop the collection of information and the injection of potentially unreliable ads. Needless to say, the easiest way to eliminate this threat, as well as the third-party infections that could be present on your PC, is by using an automated malware detection and removal tool. It is possible to erase unwanted computer infections manually, but it takes time, knowledge, and skills. If you do not have all three, we are doubtful whether you will be able to clean your operating system yourself. The good news is that the removal of the ad-supported program is not that complicated.
Delete Pass to Post from Windows
Windows XP:
Move the cursor to the left of the Taskbar and click Start.
Open the Control Panel menu and double-click Add or Remove Programs.
Identify the undesirable program, click it once, and select Remove.
Windows Vista/Windows 7:
Click the Windows logo on the Taskbar and open the Control Panel menu.
Click Uninstall a program (under Programs or Programs and Features).
Identify the unwanted program, right-click it, and choose Uninstall.
Windows 8/Windows 8.1/Windows 10:
Tap Win+R on your keyboard simultaneously to launch RUN.
Open the Control Panel menu and move to Uninstall a program.
Right-click the program you wish to eliminate and click Uninstall.
In non-techie terms:
Deleting Pass to Post is important, and the guide above explains how you can get rid of this unreliable ad-supported program. If you do not erase this adware, you can expect an influx of suspicious ads proposing all kinds of services. Any kind of interaction with these advertisements could lead to further trouble, which is why we advise ignoring them until they are gone. Considering that other ad-supported programs could have been installed along with this adware to show ads, manual removal is not ideal. The best thing you can do for the protection of your operating system is to install a reliable anti-malware tool, one that you could trust to eliminate all existing threats simultaneously.