Do you know what Pass and Play is?
Pass and Play is an application promoted on passandplaysoftware.com. It might really seem that this program is trustworthy if we take into account only the appearance of this website; however, it is the opposite in reality. In other words, Pass and Play is not trustworthy software even though it says that it will find and provide you with all the best deals available on the web. Researchers who have thoroughly read all the information provided on its official website say that this program also promises to enhance a user's browsing experience. It claims that it will do that by helping users to "find the best information, deals, and options that exist anywhere on the Internet." Even though this software tries to convince users that it is very beneficial, the truth is that Pass and Play is just an adware program that is going to display ads. Actually, it does not hide that. Of course, it does not display this information on the main page of its official website too; however, it says that it might "occasionally display ads on some web pages" in order to stay free in its EULA (End User License Agreement).
As Pass and Play does not do anything good, you should not help its publisher to collect money. In other words, you should not click on any of the ads you see. Actually, it would be best that you remove this adware completely because its commercial ads might expose you to threats. Research has shown that Pass and Play is going to display all kinds of ads (e.g., in-text ads, web browsing-related ads, interstitial ads, transitional ads, full-page ads, and banners), which means that it is very likely that you will click on any of those ads one day. Unfortunately, not all the ads you see on your screen are trustworthy. Researchers say that there is a number of ads that have untrustworthy links inside and thus might expose users to malicious software. Of course, there is a possibility that another untrustworthy program is responsible for the presence of commercial ads; however, we are sure that Pass and Play is installed on your computer if you can find its folder Pass and Play in %Program Files% (%Program Files(x86)%) and %Temp% directories. You might have installed this program long ago – it needs time to start showing commercials.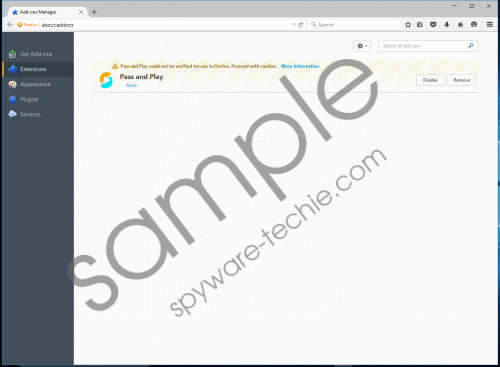 Pass and Play screenshot
Scroll down for full removal instructions
We do not think that Pass and Play is the most trustworthy program also because it is interested what users do on the web and what device they have. It records information for "business and marketing purposes" mainly. Our specialists have tested this ad-supported program and found that it is going to record demographics, websites visited, IP address, and information about hardware, software, and OS. On top of that, the program is interested in your activities:
Websites visited
Pages viewed
Search queries entered
Specific content displayed or accessed
Of course, these are only the main types of information this adware is going to record. We are sure that it is interested in other details as well and will collect them behind your back day after day.
Pass and Play belongs to the family that resembles the SuperWeb family of infections because all ad-supported programs that belong to it are based on the same template. We are sure that it is not the only program that is a member of this family. In fact, we have managed to find out a bunch of other untrustworthy programs: High Stairs, Blazer Deals, Gravity Space, Jungle Net, Deals Avenue, Sale Charger, Assist Point, Positive Finds, Roaming Rate, Record Page, Glass Bottle, and On Stage. They might enter your system if you do not take care of its safety. If you do not want this to happen, at least install a security tool on the system in order to keep the system clean.
It is a must to eliminate Pass and Play for the sake of your system's safety. Users who do not know how to do that should follow our step by step instructions. Keep in mind that it is also possible to remove Pass and Play automatically. All you need to do is to scan the system with an automatic tool, e.g. SpyHunter.
Delete Pass and Play
Windows XP
Click the Start button.
Select Control Panel.
Click Add or Remove Programs.
Select the program and click Remove.
Windows 7/Vista
Open the Start menu.
Click Control Panel.
Click Uninstall a program.
Right-click on the unwanted program and click Uninstall.
Windows 8/8.1/10
Launch RUN (tap the Windows key + R).
Enter Control Panel in the box and click OK.
Click Uninstall a program.
Select the unwanted program and then click Uninstall.
In non-techie terms:
Pass and Play will not leave any leftovers; however, our specialists still highly recommend that you scan your system with an automatic malware remover, such as SpyHunter. It is advisable to do that in order to check the condition of the system. A reputable tool will definitely provide you with a list of other infections, if they exist on the system. The sooner you erase them all, the better.