Do you know what Pakistani Girls Mobile Data is?
Pakistani Girls Mobile Data might look like a typical adware-type application, but it is more malicious than that. Our security experts have tested it and found that it is configured place a modified MSMVPS Hosts file on your computer to display commercial advertisements. This type of application is rather rare, and our researchers have classified it as a Trojan because of the fact that it set to inject a modified file on your PC. Also, this program's advertisements are configured to replace legitimate ads featured on a given website and security experts believe that this program might go so far as to promote malicious content. Therefore, we regard this application as a potential security threat and invite you to read more about it.
Officially, this program is said to allow you to play various free games from your desktop, but this is a blatant lie because it does not feature or give you access to computer games whatsoever. In truth, this application is set to replace the original MSMVPS Hosts file found in %SYSTEMROOT% \system32\drivers\etc. This file enables you to override the DNS for a domain, but this malware is set to exploit this file and use it to subject you to commercial advertisements and make money for its developer as a result.
Testing has shown that this application injects a modified MSMVPS Hosts file that will have all entries modified to point names to the 188.138.17.135 IP address which is controlled by this program's developers. Therefore, when you visit a website, its HTML will try to connect to the legitimate ad-showing servers, but the connection will be redirected to Pakistani Girls Mobile Data's server which will replace the original ads with its own ads. As a result, most of the ads that come as pop-ups, coupon, banners, and in-texts will be presented by this program. Without a doubt, this kind of advertising is deceptive as this application is set to use misleading means to force you to view promotional content of unverifiable legitimacy. Indeed, there is no way of knowing whether an advertisement shown by this program is safe to click because the chances are that it might get your PC infected with malware or redirect you to a fake online shopping site or some other kind of scam website.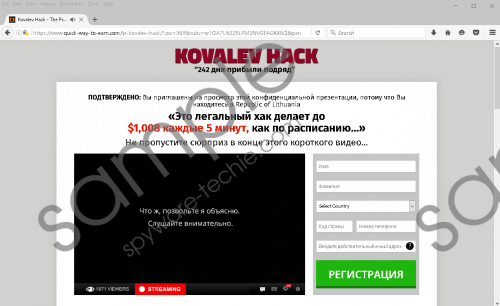 Pakistani Girls Mobile Data screenshot
Scroll down for full removal instructions
Researchers that were tasked to analyze this application have found that it has at least to dissemination channels. They say that one of the channels includes software bundling. It is unsurprising that this application is being bundled with malicious installers that are set to inject it into your computer automatically. Such bundles can only be distributed on borderline-legitimate because legitimate software distributors would not engage in hosting this malware's download. Nevertheless, a known freeware hosting website called Software.informer.com is said to have at least hosted Pakistani Girls Mobile Data's standalone installer. You can still find this program on this site, but it no longer features this malware's download link.
If you want to remove Pakistani Girls Mobile Data, then you have come to the right website because our security experts have composed a simple removal guide that might aid you in your quest to get rid of this infection. This program's name is among the list of all installed applications found in Control Panel, but its installer does not do anything, so we recommend that you delete this program manually, but you can also use an anti-malware tool such as SpyHunter to do this for you. After you have eradicated this infection, you have to fix the MSMVPS Hosts file, and we have prepared a guide on how to do this as well, so feel free to make use of it. There is no doubt that Pakistani Girls Mobile Data is dangerous because there is no telling what it will advertise next.
Removal Instructions
Press Windows+E keys.
In the File Explorer's address line, enter the following addresses.

%USERPROFILE%\Downloads
%USERPROFILE%\Desktop

Find Pakistani-Girls-Mobile-Data.exe (name can be different)
Right-click it and click Delete.
Close File Explorer.
Empty the Recycle Bin.
Press Windows+R keys.
Enter regedit in the dialog box and click OK.
Go to the following registry keys.

HKLM\SOFTWARE\Wow6432Node\Microsoft\Windows\CurrentVersion\Uninstall
HKLM\SOFTWARE\Microsoft\Windows\CurrentVersion\Uninstall

Find the string named Pakistani Girls Mobile Data 1.5.8
Right-click it and click Delete.
Create new Hosts File
Simultaneously press Windows+E keys.
In the File Explorer's address line, enter %SYSTEMROOT% \system32\drivers\etc and hit Enter.
Rename the hosts file hosts.bak
Right-click in the folder.
Select New and click Text Document.
Name the newly created document hosts.
Open the new hosts file and copy-paste the following text.

# Copyright (c) 1993-2006 Microsoft Corp.
#
# This is a sample HOSTS file used by Microsoft TCP/IP for Windows.
#
# This file contains the mappings of IP addresses to host names. Each
# entry should be kept on an individual line. The IP address should
# be placed in the first column followed by the corresponding host name.
# The IP address and the host name should be separated by at least one
# space.
#
# Additionally, comments (such as these) may be inserted on individual
# lines or following the machine name denoted by a '#' symbol.
#
# For example:
#
# 102.54.94.97 rhino.acme.com # source server
# 38.25.63.10 x.acme.com # x client host# localhost name resolution is handle within DNS itself.
# 127.0.0.1 localhost
# ::1 localhost

Simultaneously press Ctrl+S.
Click Close.
In non-techie terms:
Pakistani Girls Mobile Data is a Trojan whose creators distribute using malicious software installers. Its objective is to inject a modified Hosts file to reconfigure your web browser to show different ads promoted by this program's developers, but the ads might be malicious as well. So if you want to keep your PC out of harm's way, then we suggest that you delete this program ASAP.