Do you know what PainLocker Ransomware is?
If you ever discover PainLocker Ransomware up and running on your personal computer, make sure to do everything in your power to remove it once and for all. Doing so is imperative because this application happens to be extremely malicious. Just like any other program in this category, the one in question is infamous for its ability to lock vast quantities of data stored on the affected computer. For the most part, malware developers use ransomware applications to generate illegal earnings from unsuspecting Internet users. Once this malicious application encrypts your file, it then demands a ransom in return for decryption services. In our article, you will find further information about this devious application's inner workings. Additionally, we include a few virtual security recommendations and a comprehensive removal guide, which you should use to delete PainLocker Ransomware without encountering any major problems.
Once PainLocker Ransomware successfully enters your operating system, there is not a lot you can do to stop its intrusive inner workings. That is so because it functions quickly and silently. Like most of its contemporary counterparts it, first, scans your hard drive for its contents. The next step in the chain of action is the encryption procedure, which is over in a matter of minutes. It is essential to note that the malware in question uses an incredibly powerful algorithm to encrypt data stored on your hard drive. Such a robust cipher is used for a reason - to eliminate any possibility of manual decryption. Each affected file is tagged with the .[pain@cock.lu].pain extension. Due to this malicious application, quite a few of your programs will cease to function as data essential for their inner workings will not be available. The ransom note is dropped within each folder that has encrypted data. It comes in the form of a .txt file, which informs you about what has happened. Additionally, it urges you to get in touch with the developers of this devious application if you want to regain the affected data. Keep in mind that if you do so, cyber criminals will try to lure money in return for decryption services. Also, you should understand that even if you abide by their demands, they are not bound legally to provide decryption services. Your best bet to restore access to your files is by using your shadow copies or backups. To remove PainLocker Ransomware once and for all, be sure to use the instructions below.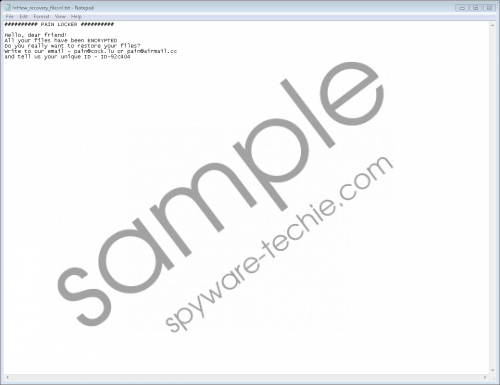 PainLocker Ransomware screenshot
Scroll down for full removal instructions
To have a computer free of PainLocker Ransomware or any other similar application, you must have a secure system at all times. To do that, you need to take preventative measures. First, we highly advise you to practice safe browsing habits at all times. That means you should download all of your software from its official developer's websites only. Make sure to refrain from all unauthorized download sites since they are infamous for hosting bundled installers, which malware developers use to distribute their invasive applications. Likewise, you should never download any email attachments that are sent to you by questionable third-parties. Doing so is essential because cyber crooks often use spam email campaigns to spread their harmful programs. Furthermore, you must know that malware developers often use hoax advertising tactics to trick naive Internet users into obtaining and installing their devious applications. Thus, we highly advise you to educate yourself about any program that you want to have up and running on your computer beforehand. Besides all of that, you must have a reliable antimalware tool if you do not have one already. Such a tool is crucial because it can detect and delete any virtual security threat automatically. Take these precautionary steps, and your operating system will be virtually unbreakable.
Remove PainLocker Ransomware without second thoughts. Also, under no circumstances delay the removal procedure since keeping this malware active on your personal computer could lead to more virtual security problems. Once you are done with the instructions below, we recommend double-checking your operating system for potential leftovers of PainLocker Ransomware. Doing so is critical because traces of PainLocker Ransomware could be used to restore it silently. In other instances, leftovers might be enough for this malware to continue working. Thus, by rechecking your computer, you will be sure that the termination has been successful.
How to remove PainLocker Ransomware from your PC
Open the File Explorer.
Go to C:\Users\<your username>\Downloads.
Select the malicious .exe file and tap Delete on your keyboard. Keep in mind that the name of this file is random.
Close the File Explorer.
Right-click the Recycle Bin and select the Empty Recycle Bin option.
In non-techie terms:
If you find manual removal too complicated, there is nothing to worry about. Malware researchers at Spyware-Techie.com have crafted an alternative removal guide. Carefully follow the instructions that we provide below, and you will be able to remove PainLocker Ransomware automatically.