Do you know what Pagefinder is?
Pagefinder is a potentially unwanted application that works like a browser extension. This extension is compatible with the Chrome browser, and it might get added to your browser accidentally. However, it should be pointed out that such extensions are not direct computer security threats. If they are unwanted, you can simply remove the unwanted programs from your computer without too much trouble. The same applies to this extension, too. You can remove Pagefinder by following the removal instructions at the bottom of this description.
The thing we have to keep in mind when we deal with the likes of Pagefinder is that these applications seldom travel alone. Therefore, if you have this app installed on your browser, there is a good chance that you have several other unwanted applications on-board, too. At the same time, it is rather easy to remove them or to avoid getting them in the first place. Users simply miss those moments when they can turn away from potentially unwanted and harmful software. If only users were more careful about the websites they access, they could avoid Pagefinder and other potentially unwanted programs.
So, how does Pagefinder spread around? Normally, potentially unwanted programs have official websites or other official distribution sources. Although our research team hasn't found the official homepage for this application, we do know that it is available at the Chrome App Store. Of course, the availability on the Chrome App Store doesn't exactly prove that the application is reliable. Google often has to fight cybercriminals who upload their own apps there, so there is an abundance of suspicious and useless apps on the Chrome App Store, too.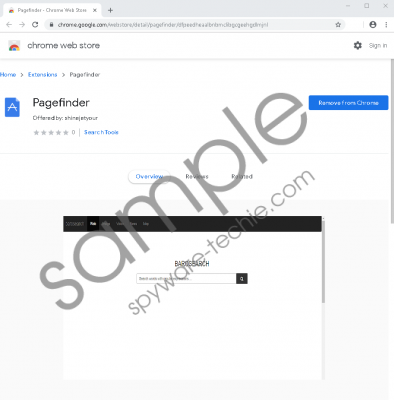 Pagefinder screenshot
Scroll down for full removal instructions
What's more, it is very likely that Pagefinder arrived at your computer accidentally when you visited some random website. Judging from the information collected by our research team, this extension usually spreads through redirects, pop-ups, and fake links that users encounter accidentally. Therefore, if you often visit websites that are full of random advertisements and flashy pop-ups, you should definitely consider changing those habits. The point is that potentially unwanted programs usually arrive at our systems due to our negligence, and we have to be more responsible about what we visit and what we download from a number of websites.
Some users might say that there is nothing wrong with Pagefinder, and they might as well want to keep this extension. After all, it is not a malicious infection, right? Well, that is most certainly true. However, just because the program isn't a malicious infection, it doesn't automatically mean it is useful.
If we were to take a look at Pagefinder's description that we can find on the Chrome App Store, there is only one sentence in the description: Search and access popular sites instantly. So, it is rather odd because we can definitely do that without the extension, too. If you must have popular sites at your fingertips, you can just put them into your bookmark tab on your browser, and that would be it.
What's more, when Pagefinder enters your browser, the extension performs certain modifications that later on affect your web browsing experience. The extension changes your default search engine to barosearch.com. Because of this, the app might seem to be similar to a browser hijacker. And even if this new search engine looks useful, you would soon learn that it cannot provide you with original search service. All of your search queries would be redirected to searchnewworld.com, and then you would see modified search results from Bing. Therefore, there is nothing useful about Pagefinder, and you should consider removing the extension today.
As mentioned, it is not that hard to delete Pagefinder. You just need to remove the extension from your browser, and that'll be it. However, you have to make sure that this annoying extension was the only potentially unwanted programs on your computer. Therefore, scan your system with the SpyHunter free scanner.
If more potentially unwanted programs are found, you have to remove them all at once. To make matters easier, terminate them with an automated antispyware tool. Afterwards, stay away from suspicious websites that could promote apps similar to Pagefinder. Your system's security is in your hands!
How to Delete Pagefinder
Launch the Chrome browser.
Press Alt+F and click More tools.
Go to the Extensions menu.
Delete Pagefinder from the list.
In non-techie terms:
Pagefinder is a potentially unwanted program, which means it is not a direct infection, but it could cause some trouble. You probably installed this app on your browser accidentally. If that is really the case, it should be easy to remove Pagefinder from your system. While you are at it, remove all the other potentially unwanted applications that are bound to be present in your system. Such apps often travel in packs, and so you have to take care of these pests immediately.