Do you know what PackTrackPlus is?
PackTrackPlus is not a popular or well-known extension. That is because it does not offer a beneficial service. Instead, it is meant to showcase advertisements, as well as monitor browsing data to ensure that allegedly relevant advertisements are shown. Did you download the PUP (potentially unwanted program) because you wanted to be bombarded with ads? That is very unlikely, unless you were convinced that the ads shown to you would introduce you to really amazing deals. More likely, you downloaded the extension because it was attached to something else. Maybe you were forced to download it when trying to use a certain service. Whatever the case might be, before you learn how to remove PackTrackPlus, you should scan your operating system to make sure that other threats do not exist. Obviously, if they do, you must eliminate them as soon as possible.
The official website representing PackTrackPlus is packtrackplus.com, but Chrome users can find the installer stored on the Chrome web store, at chrome.google.com/webstore/detail/offers-by-packtrackplus/jbdmklhmhcmifepnmdagkieccjhidepf. The PUP could also be spread using third-party installers, in which case, it definitely could come bundled with suspicious and unreliable software. Officially, this extension is introduced solely as an advertising tool, but our research team has found that there is a search engine linked to the PUP that allows choosing a delivery carrier and entering a package number to track it. This search engine did not replace the default search provider or show up as new tab or homepage during the analysis, and it is unclear how users would be introduced to it. Of course, we recommend removing every single element of the PUP, and if the search tool has been introduced to you, you want to figure out how to delete it as well.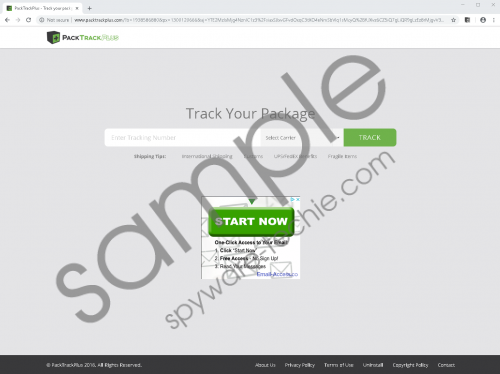 PackTrackPlus screenshot
Scroll down for full removal instructions
In its current state, PackTrackPlus tracks information and, based on it, delivers ads. This might seem pretty harmless, but the reality is that the collected information can be shared with advertisers we know nothing about. Can you trust parties you know nothing about? Of course, you cannot, and that is another important reason to delete PackTrackPlus. When you get to it, you also want to clear the browsing data to ensure that tracking tools are eliminated as well. Even if the PUP records only non-personally identifiable information, it could help potentially unreliable parties to approach you with misleading ads. If you interact with them, you could be scammed and tricked into letting in dangerous malware. This is why scanning the operating system is crucial. Hopefully, no threats have slithered in, but if they have, you need to delete all of them as quickly as possible.
It appears that only Google Chrome and Mozilla Firefox users need to worry about deleting PackTrackPlus. The name of the extension is slightly different on both browsers, but you can find them in the removal guides below. You should be able to follow these guides without a glitch, but if other threats are found, you should think carefully if manual removal is the right option for you. Maybe it is better to install anti-malware software that will automatically find and delete PackTrackPlus along with all other threats that might exist? Whichever path you choose, if you have questions, post a comment below.
Remove PackTrackPlus
Google Chrome
Open the browser and enter chrome://extensions into the address bar.
Click the Remove button linked to the extension called Offers by PackTrackPlus.
Enter chrome://settings/clearBrowserData into the address bar.
Select the time range and boxes and click Clear data.
Mozilla Firefox
Open the browser and enter about:addons into the address bar.
Click the Remove button linked to the extension called PackTrackPlus.
Enter about:preferences#privacy into the address bar.
Scroll down to the History menu and click the Clear History… menu.
Select the time range and boxes and click Clear Now.
In non-techie terms:
PackTrackPlus might seem like a useful program at first, but it is just an advertising tool that will not bring you any benefits. Yes, it might introduce you to ads based on your virtual activity and recent browsing history, but trusting these ads is very risky, and we do not recommend it. The only thing we recommend doing is removing PackTrackPlus, which you can do manually using the instructions available above, or you can install anti-malware software that will get rid of the potentially unwanted program automatically. We certainly recommend installing this software if there are other threats that you need to delete and if you need help protecting your operating system against PUPs and malware in the future.