Do you know what PackEditorTools is?
PackEditorTools packs editor tools into one, at least, that is what the developers want you to believe; unfortunately, this is just another worthless advertising-supported free software that you should not keep on your computer. The first thing you should know about this application is that it does not function at all the way it is promoted. Therefore, it is a suspicious program that is also redundant. What's more, the pop-up advertisements and coupons this adware can show on your screen may present certain system security risks to you. If you do not want to let more malware programs onto your computer or end up as a victim of an online scam, you should remove PackEditorTools right now.
This application promotes itself as a tool that wraps all the design tools you need for video and photo editing into one single package. But, if you look at the official web page at packeditortools.com, you might already have some doubts because the design of this basic page does not strike you as the site of a revolutionary program you cannot miss to have. Your experience only gets more disappointing and the application more questionable when you try to download it; and you cannot. We do not think for a second though that this is the only way the developers try to spread their useless product.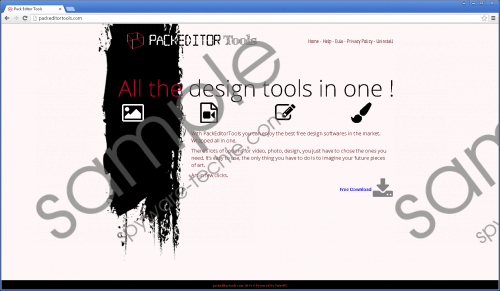 PackEditorTools screenshot
Scroll down for full removal instructions
PackEditorTools, like most adware programs, might be found in free software packages. Bundling is frequently used by criminals to hide malware infections alongside legitimate freeware in order to infect unsuspecting computer users. Since adware programs generate lots of easy money for them, obviously, they will try all kinds of tricks to mislead you to install the whole package. But you need to know that most of the time you do have a choice to say "no" to the extra programs you do not want to see on your computer. If you follow every step of the installation wizard carefully, you can deselect these and protect your PC from potential damage. However, if you let the whole content of such a bundle onto your computer, you will have to take care of all the infections after deleting PackEditorTools in order to restore order.
This application is good at one thing, and that is displaying potentially harmful third-party advertisements. Apart from a smaller frame where it shows you design tool ads occasionally, it may litter your screen with pop-up ads and coupons that can drop more malware applications onto your machine or redirect you to unsafe websites. It would be rather detrimental to your system's health to keep such a suspicious program on it. We hope that you have made up your mind and know what to do next.
Yes, it is time to eliminate PackEditorTools and free your computer of all the threats. You can easily take care of this adware since it has a functioning uninstaller. Please use our guide below if you are not familiar with uninstalling applications via Control Panel. If you want to make sure that no other infections are threatening the security of your PC, we suggest that you use a reliable antimalware program. What could be more convenient and efficient than automated malware detection and elimination?
Remove PackEditorTools from Windows
Windows XP
Open the Start menu and go to Control Panel.
Click Add or Remove Programs.
Select the program and press Remove.
Windows Vista and Windows 7
Press Win+R and type in control panel in the box. Press OK.
Access Uninstall a program.
Select the program and press Uninstall.
Windows 8, Windows 8.1, and Windows 10
Press Win+Q and type in control panel. Click OK.
Click Uninstall a program.
Select the program and press Uninstall.
In non-techie terms:
PackEditorTools is a totally useless application that does not deliver according to its promises, but, instead, it starts showing you all kinds of third-party advertisements while you are surfing the web. These ads are not only annoying, but they may also present to you certain risks. Clicking on them could take you to unsafe websites or simply infect your computer with more malware programs. We recommend that you remove PackEditorTools as soon as you can. The most effective way to fight malware is to install a reputable malware removal tool. If you keep this tool up-to-date, you can have perfect protection at all times.