Do you know what "Outdated Browser Detected" is?
If you have been exposed to a warning that reads "Outdated Browser Detected" and which encourages you to update your browser, you should ignore the recommendation because it is a scam. The warning is available on a deceitful website which you may accidentally access when browsing insecure websites. The warning can be displayed on different browsers, which means that your Internet Explorer, Google Chrome, and Mozilla Firefox may be affected by the scam if you agree to download the fake update.
The analysis of the fake update warning "Outdated Browser Detected" has revealed that the scam replaces the current browser with an older version, which is likely to contain a browser extension known as Incredibar Toolbar. More important, "Outdated Browser Detected" installs Optimizer Pro, which is classified as a potentially unwanted program. It is installed by Premium Installer, which, unfortunately, does not allow the user to download the update without installing the additional program. Optimizer Pro, known as PC Utilities Pro – Optimizer Pro, is presented as a tool which can fix system errors, remove unnecessary files, and, as a result, improve the overall performance of the system. The truth is that it can barely improve the performance of the system. You will constantly be provided with alerts about the errors found in the system in order to make you purchase the activation key of the program.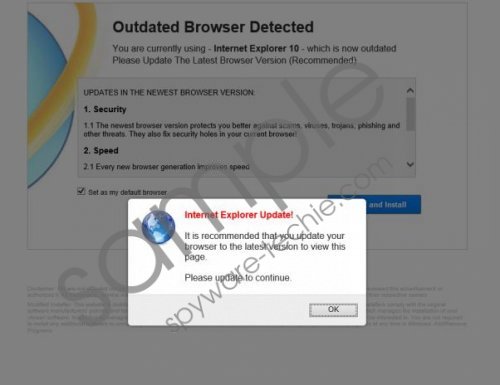 Outdated Browser Detected screenshot
Scroll down for full removal instructions
"Outdated Browser Detected" cannot be trusted because it is not associated with the actual developers of Internet Explorer, Mozilla Firefox, and Google Chrome. According to the disclaimer, you are not obligated to install the additional program in order to complete the installation of the so-called latest version of the browser; however, in practice you cannot avoid the installation of program provided by Premium Installer.
Remove the programs that have been installed onto the computer because of "Outdated Browser Detected" and do not forget to install a new browser. In order to eliminate Optimizer Pro and other malicious programs or files, use our recommended tool SpyHunter. This spyware removal tool will remove computer threats and safeguard the system against other threats that will try to access the system.
In non-techie terms:
"Outdated Browser Detected" is a scam presented a browser warning which advises to update the browser. Since the distributor of the insecure update is not affiliated with the original distributor, we recommend that you ignore the fraudulent warning and remove unwanted programs from the system if you have already installed any.
Aliases: Outdated Browser Detected message.