Do you know what Ordinypt Wiper is?
Ordinypt Wiper is a Trojan that is spread with fake resume emails. The cybercriminals behind the malware pretend to be "Eva Richter," a young woman who is applying for an available job position. The email was noticed to be spread among businesses in Germany. What the malicious application's developers seek to gain by distributing such a threat is money. Apparently, the Trojan makes files located on an infected device unusable and displays a message claiming victims can purchase decryption tools. However, it is not advisable because according to specialists, the cybercriminals might be lying about being able to restore files. For more information about this malicious program, we encourage you to read our full report. As for users who are looking for ways to delete Ordinypt Wiper, we can offer our removal guide available at the end of the main text.
The emails carrying Ordinypt Wiper might look legit. They contain a short message from a person claiming to want to apply for an available job position offered by the targeted company. Also, the email includes a photo and explains that the other attached files (located in a Zip archive) are documents needed to apply for the position. All of the text and the names of the attached files should be written in German.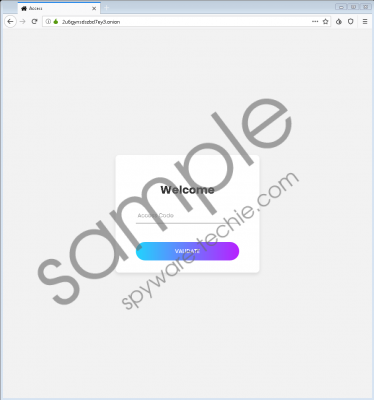 Ordinypt Wiper screenshot
Scroll down for full removal instructions
For example, the attachment carrying the Trojan might be called Eva Richter Bewerbung und Lebenslauf.pdf.exe, which translates into Eva Richter application and CV.pdf.exe. Of course, if you take a closer look, you should notice that the document has two extensions (.pdf and .exe). It is the first thing that points out the file could be fake and malicious. Of course, to avoid launching such a file, a user must not rush and inspect emails and data that come with them carefully before interacting. If you are ever unsure if a file is malicious or not, you should employ a legitimate antimalware tool that could answer this question for you. All that you have to do is scan suspicious files before opening them.
What happens if a user carelessly opens the attachment carrying Ordinypt Wiper? At first, the malicious application might work silently in the background to avoid being noticed. While it hides, the Trojan should start a process that is similar to encryption, but not the same. During encryption, files get encrypted and can be decrypted with a specific decryption key (generated during the encryption process) and special decryption software. However, specialists say that what the Trojan does to victims' data cannot be reversed. Nonetheless, the note Ordinypt Wiper may open after overwriting files on a victim's computer might tell a different story.
According to the ransom note, the malware encrypts data, and its developers have the needed decryption tools, which they are willing to sell. Needless to say, as it is unlikely the files could be restored, paying a ransom could be a waste of money. Instead, we recommend checking if the threat did not erase shadow copies. It is said that in some cases the Trojan deletes shadow copies, but not always. The other way to get affected files back is to use backup copies stored on removable media devices or somewhere else.
As for deleting Ordinypt Wiper, we can offer a couple of options. The first one is to follow the removal guide available below this paragraph. It shows how to locate the malicious attachment carrying the Trojan and how to get rid of it. The other way to eliminate Ordinypt Wiper is to get a reputable antimalware tool and let it delete the malicious application for you.
Erase Ordinypt Wiper
Press Ctrl+Alt+Delete.
Pick Task Manager and check the Processes tab.
Locate a process belonging to the malware.
Choose the process and click End Task.
Exit Task Manager.
Click Windows Key+E.
Navigate to the suggested paths:
%TEMP%
%USERPROFILE%Desktop
%USERPROFILE%Downloads
Find the malicious email attachment opened when the device got infected, right-click the malicious file, and select Delete.
Locate all ransom notes, right-click them and choose Delete.
Exit File Explorer.
Empty Recycle bin.
Restart the computer.
In non-techie terms:
Ordinypt Wiper is a threat that can ruin your valuable files. Unless you are a regular home user, in which case, it is unlikely you could receive this threat. As you see, the malware is spread among German HR departments of various companies. The Trojan reaches its victims via emails carrying files that may look like harmless documents. According to the messages that come with the infected files, they should contain a resume and other documents needed to apply for a particular job position. Sadly, opening such data activates the malware, and it ought to start locking pictures, documents, and similar types of files. Once affected, they become unreadable. At that moment, the threat should show a ransom note claiming victims can get decryption tools for a particular price. The bad news is, it looks like the malicious application overwrites files with random characters instead of encrypting it, which means restoring them could be impossible. Therefore, specialists advise not to pay the ransom but to concentrate on deleting Ordinypt Wiper.