Do you know what OpenSub search is?
OpenSub search is a Chrome extension that comes with a search engine that is supposed to provide users with a swift and reliable search service. According to the extension's page on the Chrome Web Store, OpenSub is a search engine that manages the default search engine. In other words, it means that OpenSub search modifies the default search settings, and if users are not aware of that, they might think that they were infected by a browser hijacker. However, this extension is a lot easier to remove from the system than an actual browser hijacker, so there's no need to worry.
Perhaps this extension can work more like a red flag for you to check your system's security status, rather than an actual system security threat. Yet, it shouldn't be overlooked as well. If the extension was added through some third-party source, there is a good chance that the app monitors your browsing history or logs your search keywords for online marketing purposes. It is very common for such extensions to analyze the collected data and then generate custom commercial content in the shape of outgoing links or other types of advertisements.
Now, third-party advertising is not extremely dangerous. In fact, almost any entity online may indulge in it. Also, countless websites employ tracking cookies to collect information on your browsing habits (all those permissions you have to agree to when you enter some new website; they're about the cookies). The cookies are collected in order to provide you with a personalized experience. In other words, instead of going through tons of content that are irrelevant to you, you might be able to come across something that you'd find interesting faster.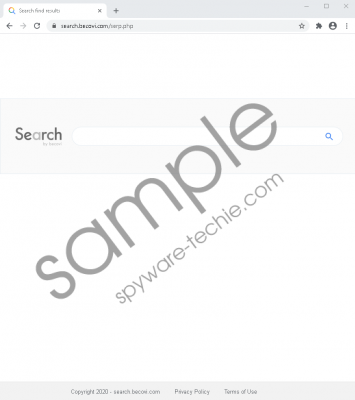 OpenSub search screenshot
Scroll down for full removal instructions
However, at the same time, you would have to trust the algorithm that offers this custom content completely. And now, the question is whether you can trust something like OpenSub search. Of course, this extension does not have the intention to infect you with malware. Nor does it try to steal your personal information. However, if it promotes third-party content, it surely doesn't review it. And that's the main security issue associated with such applications. Since they do not review the third-party content, any third party might make use of OpenSub search to promote their stuff.
And what happens if a malevolent third party makes use of OpenSub search to promote their malicious links? Well, you could land on some dangerous website that collects information for marketing purposes. Or, in the worst-case scenario, you could be exposed to a malware distribution network. Of course, getting infected with serious threats through such things as extensions is highly unlikely. But the threat is always there, so you should not ignore it.
Aside from removing OpenSub search from your browser, you should also be aware of all the potential ways for such applications to reach you. Sure, it's possible to add this program to your browser through the Chrome Web Store, but there are bound to be multiple other websites that can distribute, too. Thus, if you often visit pages that display various pop-ups and redirect windows, you have to close those windows at once without clicking anything on them. Users often fail to see how their browsing habits can influence their computer security, but that's actually one of the most important things these days.
To remove OpenSub search from the Chrome browser, you can either change the search engine settings manually or simply restore the browser to default. Seeing how there could be more unwanted applications and extensions added, it would be better to restore the browser. It would also delete all the collected cookies that could be used to generate commercial content for you.
And sure, it is strongly recommended to scan the system with the security tool of your choice because there might be more unwanted applications you need to remove. Even if you can uninstall them via Control Panel, it might not be that easy to delete every single file associated with them, so automated removal is recommended when you want to deal with it efficiently.
Should you have more questions about your system's security, don't hesitate to leave us a comment. Our team is always ready to assist you.
How to Delete OpenSub search
Launch the Chrome browser.
Press Alt+F and navigate to Settings.
Click Advanced at the bottom of the page.
Click Restore settings to their original defaults.
Press Reset settings.
In non-techie terms:
OpenSub search is not an immediate computer security threat. On the other hand, this application might enter your system accidentally. If you feel that you need to remove OpenSub search, please do so as soon as possible. You can use the guidelines provided above, or you can do it with a security application of your choice. Make sure your system is always clean and protected.