Do you know what Oojk.pro is?
You must know that not all advertisements can be trusted, and the ones introduced by Oojk.pro should be ignored in all cases. Of course, that might be hard to do if you are tricked into enabling them to show up at any point you browse the web. How can that happen? Very easily: You can be tricked into allowing notifications by this adware server. Notifications can be served by completely reliable and popular sites too, and they can provide users with a better experience overall. Unfortunately, this feature can be exploited by unreliable websites as well, and that can put you in danger of getting yourself flooded with extremely misleading alerts and pop-ups. So, do you suspect that you might need to delete Oojk.pro notifications? If that is the case, that is not a problem. We can show how to remove them quickly.
Do you remember enabling Oojk.pro notifications? A pop-up must have shown up, and you must have clicked the 'Show' or 'Allow' button to accept notifications. Perhaps you did that because you could not exit the webpage or because clicking the button should have granted you access to some kind of content. For example, a video. According to our research team, Oojk.pro notifications' request is often linked to illegal streaming content, and so you might have enabled the ads by this adware server simply by trying to watch a movie or an episode of a TV show illegally. There are tons of adware servers that rely on such illegal services, including Osmes.pro, Maranhesduve.club, and Laininvitableim.club. Without a doubt, that is why we recommend staying away from illegal streaming, gambling, unreliable gaming, and porn sites alike.
If you have been tricked into enabling Oojk.pro notifications, advertisements must have started showing up already. Perhaps you have been able to associate them with the adware server, but it is also possible that you might remain in the dark about the source of the ads. In any case, you should never click on ads that pop up randomly. Even if they are hard to ignore or if they promote something you are interested in. It is very possible that the ads shown to you could be very attractive if Oojk.pro is able to track your browsing history with the help of cookies and other tracking technologies. So, what happens if you click on the ads? You could be exposed to malware and scams, and that could lead to much bigger problems, such as theft of money, passwords, and even virtual identity. This is why we suggest deleting the strange notifications ASAP.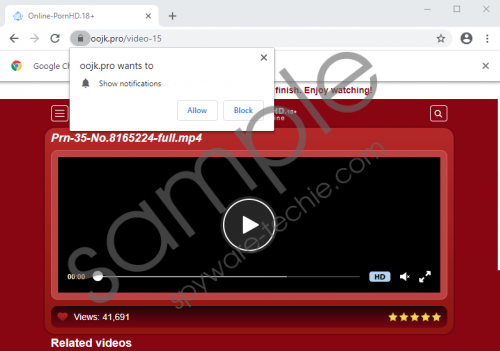 Oojk.pro screenshot
Scroll down for full removal instructions
The guide below should not be too difficult to follow. We have chosen to cover Chrome, Firefox, and Edge browsers, given that they are used by most people online. Of course, we can help you remove Oojk.pro notifications from other browsers too. Use the comments section below to indicate which browser you need the removal guide for, and we will assist you shortly. Besides deleting unwanted notifications, you also should take this time to scan your system because it is always possible that adware has invaded your system also. Should malware be found, do not hesitate to implement anti-malware software for full automatic removal.
Delete Oojk.pro notifications from browsers
Google Chrome
Tap Alt+F and go to Settings-> Site settings -> Notifications.
Locate the adware server -> click More actions icon -> Remove.
Tap Alt+F keys again and click More tools.
Click Clear browsing data -> Advanced.
Choose a time range and boxes and then click Clear data.
Mozilla Firefox
Tap Alt+T and go to Options -> Privacy & Security -> Permissions -> Notifications -> Settings.
Locate the adware server, click it once, and then choose Remove Website.
Tap Ctrl+Shift+Delete keys to open the Clear All History menu.
Choose a time range and boxes and then click OK.
Microsoft Edge
Tap Alt+F and go to History -> Clear browsing data.
Choose a time range and boxes and then click Clear now.
Go to the menu on the left -> Site Permissions -> Notifications.
Locate the adware server -> click the More actions icon -> Remove.
In non-techie terms:
Whether you enabled Oojk.pro notifications by accident or because you thought it to be a good idea at the time, we suggest that you remove them immediately. The longer you wait, the more ads you will be exposed to, and the more ads you see, the likelier it is that you will click on some of them. Unfortunately, clicking on the ads served by an unreliable adware server could lead to malware and scams. If you suspect that you might have been scammed or that malware might have slithered into your system already, you need to act fast. Check to see if you can prevent further scams, and also scan your system to see if you need to delete anything malicious. Although you should have no trouble removing Oojk.pro notifications manually (use the guides above), if malware exists, you should employ trusted anti-malware software to deal with it.