Do you know what OnlineMusic Search is?
OnlineMusic Search is a browser extension distributed among Google Chrome users. If you noticed it being advertised and think of getting it too or perhaps already placed it on your browsing application, we encourage you to read this article and get to know this tool better. Firstly, it is essential to know the add-on was categorized as a potentially unwanted program (PUP), which means it may have some undesirable qualities, such as being able to modify the browser's settings or displaying untrustworthy search results. Also, users should know there is a chance OnlineMusic Search could show third-party advertising content that our researchers think might be potentially dangerous. Further, in the text, we will tell you more of what could happen if you allow this PUP settle in and should you decide to erase it from the computer, keep it in mind there is a removal guide below the text to make this task easier for you.
To our knowledge, the application could be distributed through Google Chrome Web Store page, OnlineMusic Search official website, and possibly through pop-up advertisements, you could encounter on various file-sharing web pages. For those who would like to keep their system secure and make sure no PUPs get in accidentally, we would advise staying away from doubtful file-sharing web pages as much as possible. It is always safer if you pick a tool from reliable developers and download it from their official website or other legitimate sources. Another thing that could help you guard the system against threats is a trustworthy antimalware tool, so if you did not pick it yet, we strongly recommend getting it in the future.
Right after OnlineMusic Search gets installed, it might change the default search provider on Google Chrome. Therefore, whenever you start a new search, you might be redirected through music.eanswers.com. According to our researchers during this time the PUP redirects your searches, it could inject advertising content to the gathered results. Thus, even though the results might be displayed by a reliable search engine, such as search.yahoo.com, they could be altered before to add more advertising content among them. Naturally, for some of you such advertisements may disturb the browsing or simply annoy the user, but there is also a chance a part of them might be untrustworthy or even malicious. The reason we think this way is because besides knowing such content could be shown to the user we know nothing about what it might promote or where it could take users to.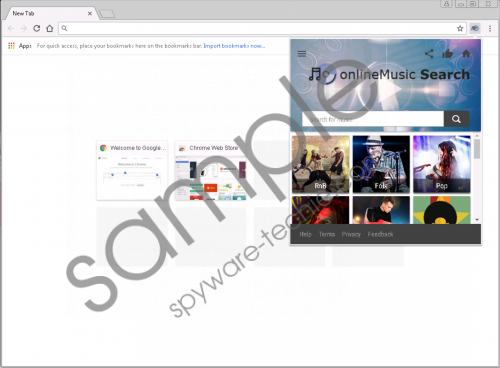 OnlineMusic Search screenshot
Scroll down for full removal instructions
Needless to say, we cannot be one hundred percent sure you will come across any suspicious advertising content while using OnlineMusic Search, but there is a chance you might, and this is why we believe you should know what could be the risks of it. Our researchers say, usually, the main dangers of unreliable advertising content are that after clicking such ads, they may suggest installing various threats (e.g., adware, browser hijackers, more PUPs, etc.). What's more, the user could get redirected to malicious web pages or might be asked to participate in fake lotteries and surveys just to steal his personal data. There are many possibilities since ads may vary depending on the region you live in and some of them might not be harmful too, so the question is whether OnlineMusic Search is worth any risks.
Those who decide not to risk their computer's safety and choose to erase the PUP we can suggest two different options. First of all, users could try the removal guide available a bit below this paragraph as it will show them how to delete the suspicious extension manually. If the task seems a bit complicated or you do not want to waste your time while trying to eliminate this application manually, you could acquire a legitimate security tool and do a full system-scan. Then what would be left to do is just press the removal button.
Get rid of OnlineMusic Search
Press Windows Key+E.
Look for the listed folders one at a time:
%LOCALAPPDATA%\Google\Chrome\User Data\Default\Extensions
%USERPROFILE%\Local Settings\Application Data\Google\Chrome\User Data\Default\Extensions
Find folders named as ogdfocalngkghhckiaeagkhmpjhabpme in each of the given directories, right-click these folders and press Delete.
Go to this specific path: %USERPROFILE%\Local Settings\Application Data\Google\Chrome\User Data\Default
Find data named as Preferences and Secure Preferences, right-click the listed files separately and choose Delete.
Exit File Explorer.
Empty Recycle bin.
Erase OnlineMusic Search from other Google Chrome profiles
Press Windows Key+E.
Find these two particular paths:
%USERPROFILE%\Local Settings\Application Data\Google\Chrome\User Data\Profile.*\Extensions
%LOCALAPPDATA%\Google\\Chrome\User Data\Profile.*\Extensions
Locate folders called ogdfocalngkghhckiaeagkhmpjhabpme, right-click them and select Delete.
Navigate to the following paths:
%LOCALAPPDATA%\Google\Chrome\User Data\Default\Local Storage
%USERPROFILE%\Local Settings\Application Data\Google\Chrome\User Data\Default\Local Storage
Look for the listed data and remove it:
chrome-extension_ ogdfocalngkghhckiaeagkhmpjhabpme_0.localstorage-journal
chrome-extension_ ogdfocalngkghhckiaeagkhmpjhabpme_0.localstorage
Close File Explorer.
Empty Recycle Bin.
In non-techie terms:
OnlineMusic Search is a suspicious browser extension we recommend removing from the computer with no hesitation. As you see, the tool is considered to be a potentially unwanted program and it appears to be it could inject user's search results with various third-party advertising content. Given there are more reputable tools to find the music you love and there are no guarantees the ads cannot come from malicious sources, we believe the extension is just not worth to take any risks. If you think so as well, we encourage you to erase it either by following the instructions placed above or by scanning the system with a trustworthy antimalware tool.