Do you know what onlineGames Search is?
onlineGames Search is a new Google Chrome extension that has already been downloaded from its official source Chrome Web Store 5 335 times. It seems that its popularity is growing, but you should not be one of those users who install it. Yes, we know that onlineGames Search looks beneficial and promises to make it possible to search for free unlimited games straight from the browser's start page, but we still cannot confirm that it is a piece of software that can be trusted 100%. In fact, our malware researchers have even categorized it as a potentially unwanted program because research they have carried out has clearly shown that onlineGames Search has more than one drawback. Potentially unwanted programs are not considered harmful malware, but specialists do not think that keeping them installed on the system is a smart idea, so if you have already installed this piece of software, it would be best that you remove it. If you have not installed onlineGames Search yet, you should find a more trustworthy application to search for games on the web. To be frank, you do not even need a separate program for searching games – you can perform searches with an ordinary search provider.
Not all users read software descriptions, so it is not surprising that so many people who decide to install onlineGames Search consciously on their computers do not know that their default search tools will be altered. No, onlineGames Search does not hide the fact that it changes Google Chrome settings: "This extension configures your Default Search in Chrome browser." The search feature can be enabled by typing "g" in the address bar and pressing TAB. Then, users can type any search query they like. It might seem to be quite a useful feature, but you could perform web searches straight from your browser's URL bar even if you did not have onlineGames Search installed on your computer, so we have some doubts about the usefulness of this application. Our researchers have also observed that onlineGames Search redirects all users' searches to http://games.eanswers.com/search before Yahoo! (a legitimate search provider) search results are displayed, so there is a huge possibility that you will see some modified search results too. They open websites that promote various services and products. There is one more thing you will soon notice after you install onlineGames Search on your computer – this potentially unwanted application will place a button on your web browser. If you click on it, a small window with a search box will be opened.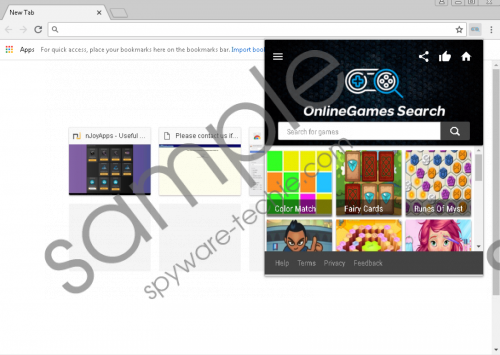 onlineGames Search screenshot
Scroll down for full removal instructions
onlineGames Search can be downloaded from the Chrome Web Store (https://chrome.google.com/webstore/detail/onlinegames-search/bhnkcdbelfpkehfpdadjilibfhakfkad); however, our researchers have noticed that other websites might promote it too. Additionally, according to them, it is very likely that this potentially unwanted application is also distributed as one of the components in software bundles or comes from pop-ups. Users are quite careless during the installation of new software, so it is not surprising at all that they agree with the installation of additional software they know nothing about as well. It is never a good idea to click on random advertisements too because untrustworthy software might be installed on the system automatically. A powerful antimalware tool installed on the system would help to prevent untrustworthy software from entering the system, so if your PC is still unprotected, you should acquire a security application today and keep it enabled on your computer all the time.
If you have not installed onlineGames Search consciously, it would be best that you remove it even though it is not considered harmful malicious software. You do not need to be a malware specialist to successfully remove onlineGames Search in a manual way because we have prepared a free removal guide for you (find it a bit below), and now your job is to perform all listed removal steps one by one. Without a doubt, the undesirable application can be deleted automatically instead, but you will have to acquire an automated malware remover first.
How to delete onlineGames Search
Google Chrome
Open Google Chrome.
Press Alt+F and select More tools.
Click Extensions.
Locate onlineGames Search.
Select it and click Remove.
Click Remove again when the dialog box opens.
In non-techie terms:
onlineGames Search is presented as beneficial software for searching free games. We do not say that it is useless, but we do not think that it is the best choice either because it has turned out that it is a typical potentially unwanted application. It not only changes the default search tool upon installation, but it might also be installed on users' computers without their knowledge since it travels in software bundles. In other words, it is not a harmful threat, but it still has drawbacks users should weigh when deciding whether or not to install it.