Do you know what online24files@airmail.cc Ransomware is?
If you cannot recognize your files as they have been renamed and marked with an extension containing the online24files@airmail.cc email address you most likely encountered a threat known as online24files@airmail.cc Ransomware. The malicious application ruins user's data by encrypting it with a secure encryption system. Then it creates text documents with a warning saying the only way to restore the damage is to pay a ransom to the malware's developers. In exchange, they say, they would provide decryption means, but you should understand there are no guarantees they will hold on to their end of the bargain. Consequently, we advise against paying any money to the cybercriminals behind online24files@airmail.cc Ransomware. Our computer security specialists say the safest option would be to erase the threat and then use backup files for restoring encrypted data. To learn how to get rid of the malware manually, you should check the removal guide available at the end of this article.
In the rest of the article, we would like to talk more about Scarab-Good Ransomware, Scarab-Glutton Ransomware, and to begin with; we will discuss its possible distribution channels. Some users could receive online24files@airmail.cc Ransomware via email. In other words, it is possible the infection could be spread through harmful email attachments. A lot of other malicious applications are distributed this way, which is why you should never open suspicious files received with Spam or from unknown senders. Another way to come across the malware is launching an infected software installer or other file downloaded from the Internet. This is why we also recommend staying away from untrustworthy file-sharing web pages and being careful when interacting with questionable advertisements, especially if they offer unknown tools. Of course, whenever in doubt you could employ a reputable antimalware tool of your choice to scan data you suspect to be dangerous.
When online24files@airmail.cc Ransomware enters the computer, it should create a copy of itself in the %APPDATA% directory. The file is supposed to be a random executable that is later deleted by the threat itself. Additionally, may place a couple of Registry files in the HKEY_CURRENT_USER\Software and HKEY_CURRENT_USER\Software\Microsoft\Windows\CurrentVersion\Run directories. After this, the malicious application should start encrypting user's data. As mentioned earlier all of them should be renamed with random titles and marked with specific extensions. For example, a picture called panda.jpg could turn into 8RFNo9eEQi64f8GMjAlpKk.HOW TO RECOVER ENCRYPTED FILES-online24files@airmail.cc.TXT. Another thing our computer security specialists notices was the infection can disable Registry Editor and Task Manager until it finishes the encryption process. Probably, it is done to prevent the user from killing online24files@airmail.cc Ransomware's process and erasing it.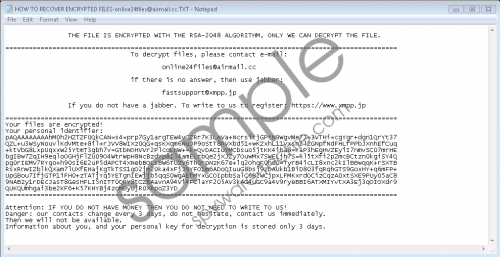 online24files@airmail.cc Ransomware screenshot
Scroll down for full removal instructions
Next, the victim should notice text documents containing a message from the malware's creators. They should ask the user to contact them via email. Also, it should be mentioned the user will have to pay for decryption tools, and if he does not have any money, he should not bother writing to the hackers. We would not recommend doing so even if you have money to spare for ransom. The cybercriminals could scam you and next to encrypted files you could end up with a lighter wallet too. Provided, you do not want to risk it, we encourage you to eliminate online24files@airmail.cc Ransomware with the removal guide placed below or a reputable antimalware tool of your preferences.
Erase online24files@airmail.cc Ransomware
Click Ctrl+Alt+Delete simultaneously.
Pick Task Manager.
Take a look at the Processes tab.
Locate a process associated with this malicious program.
Select this process and tap the End Task button.
Click Windows Key+E.
Navigate to the suggested paths:
%TEMP%
%USERPROFILE%Desktop
%USERPROFILE%Downloads
Find a file launched when the system got infected, right-click the malicious file and select Delete.
Go to %APPDATA% and check if there are no suspicious executable files, for example, system.exe; if you see such data, right-click it and select Delete.
Locate the malware's ransom notes (HOW TO RECOVER ENCRYPTED FILES-online24files@airmail.cc.TXT); right-click them and press Delete.
Close File Explorer.
Press Windows Key+R.
Type Regedit and press Enter.
Navigate to these locations:
HKEY_CURRENT_USER\Software
HKEY_CURRENT_USER\Software\Microsoft\Windows\CurrentVersion\Run
Look for suspicious keys with random titles, for example, poTQkRoNs; right-click them and select Delete.
Leave Registry Editor.
Empty Recycle bin.
Restart the computer.
In non-techie terms:
online24files@airmail.cc Ransomware is one of the Scarab Ransomware family's infection as it is very similar to threats like Scarab-Good Ransomware, Scarab-Glutton Ransomware, and so on. It was designed to enter the victim's computer silently and encrypt all pictures, photos, and other valuable files. Afterward, a ransom note appears and the user sees a message from the cybercriminals in which they demand to send a payment in exchange for decryption tools. However, it is essential to understand it might not be as easy as the note says. The hackers could start asking for more money or may not deliver the needed decryption tools. Unfortunately, there would be no way to get your money back, so if you do not want to risk your savings, we do not advise dealing with hackers. If you decide to erase the malicious application instead, we can offer the removal guide available a bit above this text. Also, users who have other questions about it can leave us messages at the end of this page.