Do you know what OnePCOptimizer is?
Do you consider whether to keep OnePCOptimizer on your computer or remove this tool? You are promised that your system will be clean, there will be no junk files left, and all the errors will be fixed. Just pay the developers of this program the amount they require and enjoy the full functionality of OnePCOptimizer. But you should know that this program acts in a very unpredictable manner. We have tested it and have found that this optimization tool provides very unreliable scan results. Pay no money for this program and better delete it from your computer.
Our research has shown that OnePCOptimizer could be downloaded from the official source. But do you remember opening the onepcoptimizer.com webpage and installing the program from there? Most likely the answer is no because the program usually comes in bundles with other applications that you have downloaded from the Internet. This allows us to classify OnePCOptimizer as a potentially unwanted program. Moreover, this program could be silently installed by a Trojan horse that is already damaging your system. In this worst case scenario, if your computer is already infected by such a dangerous threat, you will need to acquire legitimate antimalware software to eliminate all the viruses. We will get back to this issue later, but for now we will explain how OnePCOptimizer acts.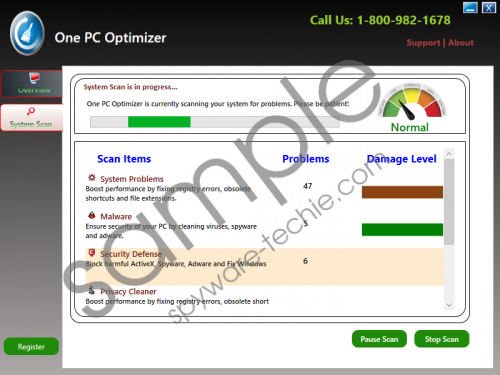 OnePCOptimizer screenshot
Scroll down for full removal instructions
This program will always show you an error screen screaming that it has found a Trojan on your system. But do not believe this message. Even if your computer is infected, OnePCOptimizer is not capable of detecting any threats. The reason you are shown this fake error message is simple: Developers of this optimization tool are trying everything just to make you acquire the full version. The Blue Screen of Death (BSOD) would also say that your passwords are at risk, as well as your credit card and banking details. The message will try to make you dial a toll-free number, but do not panic and refrain from making this call. It may be that calling the number will be very expensive, and this call will result in a huge phone bill at the end of the month.
During the tests conducted in our internal laboratory, we have found that OnePCOptimizer does not work properly and constantly crashes. As has already been mentioned, the system scan results provided by this program should not be trusted. Therefore, there is no single reason for keeping OnePCOptimizer on your computer. The program could be uninstalled by means of Control Panel. However, you will still encounter the BSOD time from time. To get rid of it, you will have to locate and delete a particular directory from your system. Do not worry, this is not a hard task and you will do the job if you carefully follow our prepared guide. But please have in mind that other infections, especially the above mentioned Trojan horse, are very hard to remove in a manual way. You will need a professional antivirus program. The purchase of trustworthy security tool will surely be a better investment than an acquisition of OnePCOptimizer.
How to eliminate OnePCOptimizer
Windows XP
Access the Start menu.
Launch Control Panel and open Add or Remove Programs.
Eliminate OnePCOptimizer.
Access the Windows Explorer by simultaneously tapping the Windows key + E.
Type %allusersprofile%\DataFile into the box.
Delete the directory.
Windows 7 and Windows Vista
Click the Start button.
Go to Control Panel.
Access Uninstall a program.
Remove OnePCOptimizer.
Press the Windows key + E.
Enter %allusersprofile%\DataFile in the bar.
Remove the directory.
Windows 8/8.1/10
Press the Windows key + X.
Click on Control Panel.
Go to Uninstall a program and remove OnePCOptimizer.
Press the Windows key + E.
Navigate to the box at the top and type %allusersprofile%\DataFile.
Delete the directory.
In non-techie terms:
OnePCOptimizer pretends to be a legitimate and reliable system optimization program. But it should not be trusted in any case, as you will be continually attacked by a fake error message. The program will try to make you dial a free number which could result in a very expensive call for you. Moreover, the application would not work properly and crash all the time disturbing you. The best thing you can do is to remove the program, and you will find helpful instructions below.