Do you know what One Click Booster is?
One Click Booster is a potentially unwanted program and a clone of tools like Win PC Repair 2018, AutoClean Pro 2018, and so on. It scans the computer and looks for data that is supposed to influence the device's performance. What we noticed is that a lot of the identified issues were invalid Registry entries and users ought to know it is doubtful such data could make the system work slower. Thus, we do not think the software should urge the user to take action, especially when it asks to buy the license if you want to remove identified problems. To learn more about this potentially unwanted program, we encourage you to read our full article. On the other hand, if you have already decided you wish to erase One Click Booster, you could slide below the article and follow the provided removal guide.
It is possible some users might install One Click Booster unknowingly. A lot of potentially unwanted programs are spread with bundled software installers, and the problem with some of these setup files is that they may not disclose the information about additional tools clearly. However, we cannot know for sure if the application is being distributed this way. What we do know is that it is available on its official site called sjsystools.xyz. Judging from the title it is doubtful a lot of users could come across this site on their own. What we mean to say is it is likely the program might be promoted on pop-up ads, banners, and other advertisements alike. Therefore, if you wish to avoid potentially unwanted programs in the future, you should be more attentive to the ads you interact with and the software you let settle in on your computer.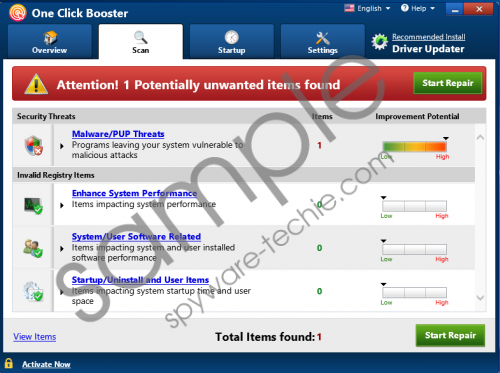 One Click Booster screenshot
Scroll down for full removal instructions
After installation One Click Booster can perform a system scan after which it is supposed to show issues, which ought to be responsible for the slower computer's performance. As we explained earlier, it is doubtful old Registry entries could be the cause why the computer works slower. Thus, we do not think the program should show red notifications and use phrases like "Attention!" while displaying the results. In other words, since the issues may not be that significant in reality, the software should not encourage the user to rush into taking action. It looks like users who agree to remove the detections might be asked to purchase the tool's license once they click the deletion button. If it does not seem fair that you cannot test the application before paying for it, we would advise not to waste any time with this potentially unwanted program and erase One Click Booster at once.
Since it is not a malicious application, it can be eliminated without any trouble. The removal guide available below the article will explain how to delete One Click Booster via Control Panel. If the process seems too long or complicated, you could install a reliable antimalware tool instead and leave the task of erasing this application to it.
Get rid of One Click Booster
Windows 8 & Windows 10
Launch the RUN (Win+R), type Control Panel and click OK.
Choose Uninstall a program.
Select One Click Booster and press Uninstall.
Windows Vista & Windows 7
Open the Start menu and click Control Panel.
Select Uninstall a program.
Mark the potentially unwanted program and press Uninstall.
Windows XP
Click on Start.
Select Control Panel.
Press Add or Remove Programs.
Select the application and click Uninstall.
In non-techie terms:
One Click Booster was classified as a potentially unwanted program. That is because the application claims the user could improve his computer performance by erasing invalid Registry entries. Also, our researchers say it does not let deleting identified issues free of charge even for the first time. Meaning, you cannot thoroughly test the tool before buying its license. If you find it odd as well, we would recommend not to invest in it. Those who do not want to purchase the license might find the software rather useless since the free version only scans the computer. In such a case, you could simply eliminate it. The removal guide available a bit above this article will show how to uninstall the potentially unwanted program via Control Panel. However, our researchers say it can be deleted with an antimalware tool too, so if you find this option easier, all that is left to do is pick a reputable security tool.