Do you know what Olacarita is?
Olacarita is an intrusive adware application that targets users in Spanish-speaking countries. It is very similar to an extensive number of other adware applications that promise to provide users with coupons and discount offers on popular online stores. However, Olacarita is too suspicious to be trusted, and our research lab team certainly does not suggest keeping on using this program. You should remove Olacarita immediately and then check whether you have more unwanted applications installed. Do not forget that such adware and freeware programs usually travel in groups.
It goes without saying that it is impossible to download at olacarita.com. It is not surprising because adware applications seldom are available for download at their official websites. For the most part, these "official" websites are nothing but empty shells hastily created to make an impression that you are dealing with a reliable plug-in.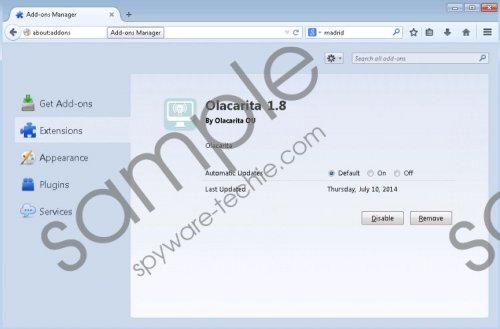 Olacarita screenshot
Scroll down for full removal instructions
Based on our research, Olacarita usually comes bundled with potentially unwanted freeware apps. It means that users install this application onto their computers themselves. You should be able to avoid installing Olacarita if you read all the freeware installation steps carefully. Do uncheck additional feature options if possible; otherwise you are bound to get a list of unwanted programs installed.
After the installation, Olacarita adds extensions to Mozilla Firefox and Google Chrome web browsers. Disregarding which language the adware "speaks," it still functions in a very similar manner, so we can assume that Olacarita collects data on your web browsing history to generate your online profile. The online profile allows this adware program to create a flow of customized advertisements that would cater to your likes and preferences. However, even if you see interesting offers on Olacarita ads – do not click them!
Olacarita relies on third-party advertising networks to generate ad content. It usually displays advertisements and pop-ups on various Spanish language internet shops. According to our research, Olacarita most probably shows ads for computer users in the US, Mexico and several European countries.
Displaying the ads is not an illegal practice, but some of the ads may contain links to dangerous websites. You might also be lead to pages that distribute other adware applications, thus exposing your system and your personally non-identifiable information to further unauthorized exploitation. Although Olacarita simply intends to make money, it raises particular security concerns you cannot ignore.
Removing Olacarita manually may not be enough to get rid of this program completely. Thus, invest in a reliable antispyware tool that will help you scan your system and detect malicious leftovers and other potentially unwanted applications. Do all you must to terminate Olacarita for good and safeguard your system against similar threats in the future.
How to remove Olacarita
Windows 8
Slide mouse cursor to the bottom right of the screen.
When Charm bar appears click Settings and go to Control panel.
Select Uninstall a program and remove Olacarita.
Windows Vista & Windows 7
Open Start menu and select Control Panel.
Go to Uninstall a program and remove Olacarita.
Windows XP
Click Start menu and navigate to Control Panel.
Open Add or remove programs and uninstall Olacarita.
Remove Olacarita from browser
Mozilla Firefox
Press Alt+T and go to Add-ons.
Disable and remove Olacarita from Extensions.
Restart browser.
Google Chrome
Press Alt+F and click Tools.
Open Extensions and remove Olacarita.
In non-techie terms:
Olacarita is a potentially unwanted program that spams you with annoying pop-ups. You need to get rid of this program and then scan your PC with SpyHunter free scanner in search of other potential threats. If you need an alternative method to remove unwanted applications from your PC, refer to the instructions below.